When professional services network giant EY was thinking about its employee experience strategy last year—about employee engagement, about its return-to-office strategy, about the struggles facing the organization and its workers—there was one theme that executives kept coming back to in their conversations: wellbeing.
"'We said, 'You know, there is so much for us to be focused on over the next two, three, four years, that it would be great to create a team that's just focused on wellbeing,' " says Frank Giampietro, EY's newly named chief wellbeing officer.
That's why the firm initiated a team dedicated to improving its employees' wellbeing—including Giampietro's role of chief wellbeing officer, a position that was created in November. In the role, Giampietro primarily focuses on employees' wellbeing: how they are doing, what they need, what tools and programs would help and so on.
EY isn't the only company focused on wellbeing to the extent that it has added a new title to match that commitment.
Others, including consulting firm Aon, health system Geisinger and professional services firm Deloitte, have developed chief wellness officer roles as employee wellbeing becomes a business priority. Although this C-suite trend is still limited for now, it's one that is likely to pick up speed, says Chris Rollins, a leadership coach who works with HR leaders.
"Wellbeing as a topic is absolutely gaining momentum and is growing as a trend," Rollins says. "There are not a ton of chief wellness officers yet, especially at smaller companies. But the trend [of chief wellness officers] is certainly bubbling up."
For employers like EY that have developed the role, it's an indication that wellness commitment, particularly fueled by the pandemic, isn't waning; it's only getting bigger.
"You have to view wellbeing as a business imperative, it's not a nice-to-do," Giampietro says. "It's actually imperative for businesses to be focused on this right now."
Behind the strategy
Aon's decision this year to create its own chief wellbeing officer role was in part borne from the pandemic and other stresses that have taken a dramatic toll on employees' overall wellbeing, says Rachel Fellowes, who assumed the role earlier this year.
Fellowes has dual missions: addressing all aspects of wellbeing for Aon's 50,000 employees and helping the firm's employer clients build wellbeing programs that tend to evolving employee needs. Those missions are critical, she says, as organizations try to grapple with the decline of employee wellbeing amid the ongoing pandemic.
---
---
Part of her approach, she says, is focusing on data-driven strategies. Through data, Aon looks to measure not only how employees are doing and feeling emotionally—but also how to point them to the best and most personalized help. Through the Human Sustainability Index—a performance tracker of corporate wellbeing that Fellowes developed and Aon has bought—organizations can measure "human sustainability" at an individual and team level. In short, it measures how resilient employees are and how they cope with stress and change and other mental health challenges.
"It's about, what sort of things does a leader need to think about to create an environment where people can be sustainable, and can we think about it at an organizational level?" she says. "It's effectively a data capture point for every human within an organization to report on that. And then, based on the data, we support things to promote sustainability, whether it be coaching or training, etc."
EY also is focusing on measuring how employees are doing and feeling, and how the company is doing with meeting their needs, Giampietro says.
It wants to ensure that the wellbeing programs and initiatives it is rolling out—like its return-to-office strategy, which reimbursed workers for all commuting costs, all dependent care costs and all pet care costs to ease the transition—are effective and helpful for employees' wellness. "I want to see the scores go up, I want to see our people telling us that they are having a better experience and feeling better. And I want to make sure that I'm giving insights to our leaders as to what they can be doing to help our people on a day-in and day-out basis."
Prioritizing wellbeing
A focus on workplace wellbeing itself isn't new—it's been on the rise for the past decade or so—but its importance has only increased and its definition evolved. Wellness used to be primarily focused on physical wellness—employers rolled out tobacco-cessation programs, step challenges, nutrition programs and the like to get employees healthy, fit and active. But in recent years, wellness has become an all-encompassing idea—components like financial wellness, mental health and social wellness have all rounded out how employees think about their wellbeing—and how employers address it.
The COVID-19 pandemic and a confluence of other events over the past couple of years—including soaring inflation, social injustice events and a war in Europe—has fueled a sharp focus on employee wellbeing as workers have had to deal with stress after stress after stress.
"Some organizations have been more forward-thinking on this stuff. But it wasn't really until the pandemic that we all have the lived experience of wellbeing being out of kilter, trying to be resilient," Aon's Fellowes says. "So many cannot take any more uncertainty. With the amount of uncertainty in the world on every layer, from COVID to the work layer to the family layer to the geopolitical layer, people can't keep borrowing from tomorrow to be resilient today."
---
---
Employee wellbeing has indeed taken a tumble over the past two years: Data has consistently found that Americans say their overall health has declined, and rates of depression, anxiety, stress and burnout have been on the rise. All that can take a hit on employee performance and absenteeism, as well as increase medical claims.
It only makes sense that organizations would put a sharper focus on their wellbeing efforts. Historically speaking, myriad responsibilities—like benefits, wellness, recruiting, technology or diversity, equity and inclusion efforts—are rolled into the human resources role. But as the role and duties of HR expand further, it's harder for those executives to focus extensively on each priority, leading some organizations to develop a chief wellness officer role. The position often works with the organization's chief human resources officer and other HR leaders in the organization.
The idea of a new role dedicated to one important HR-related facet has happened before: The role of chief diversity officer, for instance, has blown up over the last few years, says Rollins. Chief wellness officer isn't increasing at the same pace, but it could over time.
"I think the chief wellness officer position is a natural progression [in HR]," he says. "That's especially the case for larger employers who have the resources to [create the position]."
A role dedicated to employee wellbeing has another advantage, insiders say: It's attractive to employees and potential hires. In a hot job market where employees have more opportunities to leave for other opportunities, forward-thinking employers are going above and beyond. And employees consistently rank wellbeing efforts as important to them.
"From a prospective employee standpoint, if I'm looking at a company that has a chief wellness officer, that's really attractive," Rollins says. "The market is so competitive right now; from a recruitment standpoint, those are things that can really help [an employer] stand out."
EY's Giampietro agrees.
"We recognize that we have a great opportunity to differentiate ourselves by [focusing on wellbeing]," he says. "We're maybe a step or two ahead of where others are in their thinking and understanding of how important this is and what it really means when you get it right. And we want to be a role model, we really do. We want to set the tone for what we think employers can do in the wellbeing space. We think that'll serve our people really well. And we think it'll serve our business really well."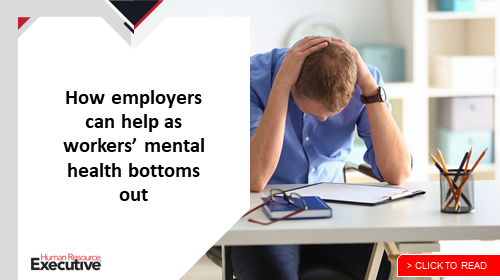 The idea of prioritizing wellness—and creating a role dedicated to it—is that employers can always do more to help. Employee wellbeing isn't a one and done initiative, it's a fluid strategy that is always moving and evolving.
"We always need to do more. We need to help our people more," Giampietro says.