Amid all-time lows in mental health, employers are finding a new mandate to step up efforts to help struggling employees.
"After two-plus years of pandemic ambiguity, employee burnout is emerging as the next widespread health crisis, while employers pour more resources and attention into keeping employees engaged and well," says Carrie Bevis, managing director of communities at research firm Institute for Corporate Productivity (i4cp).
According to the latest data from Total Brain's Mental Health Index, mental health has hit an all-time low, primarily due to the Omicron surge as the third year of an unpredictable pandemic begins. Most notably, post-traumatic stress disorder, depression and addiction have soared.
In addition to tried and true standards, like employee assistance programs, many company leaders are realizing they need to go further as they see scores of employees struggle. Some organizations are enhancing benefits and embracing shorter workweeks, flexible schedules, financial health efforts and mental health days.
Equally important, Bevis says, is empathy, listening and flexibility—especially as employees work from home. "Organizations should empower managers and leaders with training and tools to help them exercise compassion, actively listen, and build relationships, equitably, in both a remote and hybrid environment," says Bevis, who will be speaking about work-life balance at HRE's upcoming Health & Benefits Leadership Conference, taking place April 5-7 in Las Vegas. Register here.
It's no wonder more action is needed.
One in four American workers screened positive for post-traumatic stress disorder (PTSD) in the past three months, Total Brain's research found—up 54% from the previous quarter and up 136% when compared to pre-pandemic levels. Depression also is surging; that's up 87% since fall 2021 and is 63% higher than before COVID-19. Men show a sharp rise in risk of addiction—up 80% between September and December 2021. In just the past three months, depression in men is up 118%, and social anxiety is up 162%.
Total Brain's Mental Health Index, in partnership with the National Alliance of Healthcare Purchaser Coalitions, One Mind at Work and the HR Policy Association and its American Health Policy Institute, is based on 500 anonymized assessments randomly selected among thousands of Total Brain assessments taken each week. The index has been tracking employees' mental health throughout the pandemic and has found ebbs and flows in how workers are feeling, often corresponding with their outlook on COVID-19.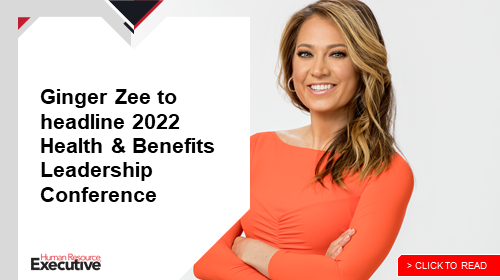 "We expect mental health declines around the holiday; however, nothing of this sheer magnitude," says Total Brain CEO Matthew Mund. "We saw a very troublesome surge in mental health concerns at a time when Omicron began to grip the nation, workplace vaccine mandates were put in place and the holiday season was in full swing."
The new findings are not the only data showing continued cause for concern about employee mental health. Recent data has found soaring rates of burnout among employees, which has big repercussions for employers—burnout is one of the main reasons scores of employees are leaving their jobs amid the Great Resignation.
Related: What's Keeping HR Up at Night? The Great Resignation and more, our survey shows
Continued declines in mental health have massive implications for employers and HR leaders nationwide, who have struggled throughout the entirety of the pandemic with addressing overall declines in employee mental health. Poor mental health is linked to a number of issues, including physical health problems and declines in productivity, focus and more.
"The Omicron surge has had a parallel effect on the mental health of our workforce. While we had hoped the worst was behind us, employers will want to double down on efforts to create a supportive environment as the issues created by the pandemic continue," says Michael Thompson, National Alliance president and CEO.
Recent research from Willis Towers Watson finds that employers largely acknowledge the mental health issue: Nearly all employers recently surveyed by the consulting firm (86%) identify stress and burnout as a threat for their workforces and say it's a top HR priority. However, that same survey shows that many employers don't have wellbeing programs in place that prioritize employees' mental health. The survey finds that only a quarter of employers have adopted and articulated a wellbeing strategy, and just over a third of employers have an organization-wide behavioral health strategy.
Experts say a number of strategies need to be prioritized to help, including expanded and comprehensive mental health coverage, increased time off, flexible work schedules and more. Some companies have gotten innovative in their approaches. For instance, companies including Hootsuite, Momentive and LinkedIn and Mailchimp have embraced a company-wide wellness week to give employees a collective break in an effort to alleviate stress and take aim at burnout. The mental health epidemic will be a primary focus of HRE's Health and Benefits Leadership Conference, which is April 5-7 in Las Vegas; Mailchimp is among the employers that will be speaking.
"Employers must be prepared to address trauma in the workplace," Mund says. "Understanding the risks and pressures that may exist for employees and normalizing workplace mental health discussions are important first steps."