Mental health. It's been a buzzword for HR and benefits leaders in recent years, particularly as employees come back to the workplace and continue to face increased stressors, anxiety and burnout due to the pandemic.
"We are not all in the same boat, but we are in the same storm," Ginger Zee, mental health advocate and ABC News chief meteorologist, said Tuesday at the Health & Benefits Leadership Conference in Las Vegas about the impact of mental health struggles on employees everywhere.
Related Return-to-workplace worries are affecting employee mental health
Zee, who has talked openly about her struggles with anorexia and depression and drawing on her personal journey through suicide attempts, hospitalization, diagnosis and treatment, highlighted the impact of her day job chasing storms on her mental health journey.
"I was going around the world seeing people in their worst hour—being the first person to run up to them and talk to them and experience their grief with them," she said. "I was amazed at how quickly and gracefully they were able to go through that grief."
However, she added, "When my life was flipping upside-down, I wasn't treating it the same way as people who just had their homes flipped over."
In self-reflection, Zee realized many of the problems she had been encountering stemmed from her mental health: She had to see herself not just in a storm, but as a storm, she said.
See also Burnout and resignations are rampant in HR. What leaders need to know
So, before joining the team at ABC, Zee admitted herself into a mental health hospital for treatment.
"And I never looked back," she said.
But there is still a stigma around getting treatment, she said, and HR leaders need to be on the frontlines to help remove that.
"I think we've gotten better, but the stigma is now on the action," she said. "Therapy is cool now, everyone is on board with getting therapy. But when you have to get hospitalized, eyebrows go up. But that's when you get help [if] therapy can't do it."
From a strategy standpoint, visibility of and access to care are the most important things for employees, she advocates. "Nobody knows where to go."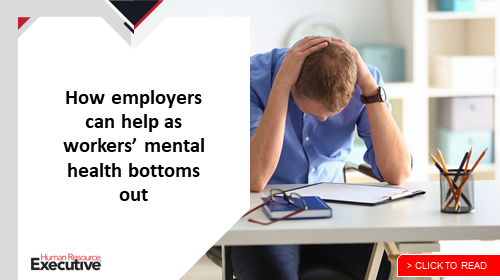 And it will take maintenance, she added. "Just like with physical health. That's where [HR leaders] come in, from a benefits side. [Employees need access] to recurring therapy. A lot of the hard work might be done, but maintenance is key."
But, she added, the clouds of a mental health crisis don't last forever. "They can't and they won't. It's not how the atmosphere works, and it isn't how life works."