Workplace wellbeing has been a focus for Rachel Fellowes for much of her career.
She's been a management consultant for nearly 20 years, often focusing on helping clients build resilient workplace cultures. In 2015, she founded Yoke, a consultancy that specializes in organizational performance and wellbeing. Most recently, Fellowes developed the Human Sustainability Index (HSI), a performance tracker of corporate wellbeing.
Now Fellowes has a new title to add: chief wellbeing officer at consulting giant Aon—the company's first.
In the newly created role, Fellowes has dual missions: addressing all aspects of wellbeing for Aon's 50,000 employees and helping the firm's employer clients build wellbeing programs that address evolving employee needs. Those missions are critical, she says, as organizations try to address the decline of employee wellbeing amid the ongoing pandemic.
"Some organizations have been more forward-thinking on this stuff. But it wasn't really until the pandemic that we all have the lived experience of wellbeing being out of kilter, trying to be resilient," she says. "So many cannot take any more uncertainty. With the amount of uncertainty in the world on every layer, from COVID to the work layer to the family layer to the geopolitical layer, people can't keep borrowing from tomorrow to be resilient today."
Employee wellbeing has indeed taken a tumble over the past two years: Data has consistently found that Americans say their overall health has declined. It has become such a widespread concern that it is the focus of a learning track at the HR Technology Conference this fall in Las Vegas.
That all ties into the importance of robust employer wellbeing and resilience strategies—from identifying which employees are struggling to learning how to best help employees, Fellowes says.
Part of her strategy, she says, is focusing on data-driven strategies. Through data, Aon looks to measure not only how employees are doing and feeling emotionally—but also how to point them to the best and most personalized help. Through the Human Sustainability Index, which Aon has bought, organizations can measure human sustainability at an individual level, and measure it at a team level.
"It's about, what sort of things does a leader need to think about to create an environment where people can be sustainable, and can we think about it at an organizational level?" she says. "It's effectively a data capture point for every human within an organization to report on that. And then, based on the data, we support things to promote sustainability, whether it be coaching or training, etc."
Focusing on soaring burnout, in particular, is a top priority. It's no wonder why: Burnout has soared in the last few years, and new data from Paychex finds that 60% of HR leaders are concerned about employee burnout, up 18% from before the COVID-19 pandemic. Further, research from Willis Towers Watson shows that nearly all companies identify stress and burnout as threats to their workforces, yet few have adopted and articulated a wellbeing strategy.
---
---
To help with the issue, Aon has also made other efforts, like allowing its employees to work in whatever model is best for them: fully remote, fully in the office or hybrid.
"It's not just the pandemic; there are so many other things going on for humans at the moment on every layer," she says. "There's going to be a constant dance. But I think the brilliant thing is we're now leaning into it more than ever. We haven't got the magic formula yet."
A renewed focus on wellbeing
Fellowes' new position comes as more employers prioritize wellbeing efforts, especially two years into a pandemic that continues to take its toll on all aspects of employee wellbeing, including physical, mental, social and financial health. Research finds that the wellbeing of employees has been on the decline. Likewise, companies that do prioritize wellbeing have more engaged, productive and dedicated employees than organizations that don't.
Although wellbeing is an increased focus for employers, wellbeing efforts are usually among the many competing priorities from organizations' HR or benefits managers. The role of chief wellbeing officers, although growing in recent years, has remained rare.
Fellowes' role of chief wellbeing officer, in part, was borne amid the understanding that wellbeing helps both employees and the organization as a whole, she says. That's especially true for many U.S. employers as they ramp up efforts to keep and attract employees in a tight job market.
"We want to support people who could have the best impact on the organization. And we also want to start thinking through, how do we then need to differentiate ourselves to be a really great place to work?"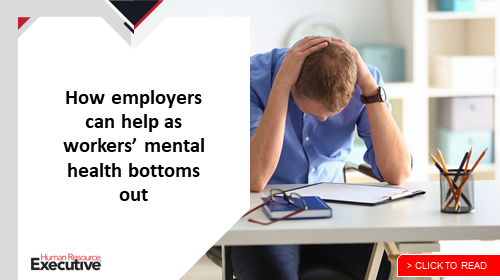 As for her goals for Aon's employees, Fellowes says in the short-term she wants to "be able to talk candidly about what's working and what's not working at that personal team and organizational level. And I want to be incredibly thoughtful about what we're actually going to do. It might mean not blanketly rolling out anything but being super smart with what we will do."
---
---
But as she, and other HR leaders, navigate how to create successful wellbeing programs for their employees, she says, organizations must think about the overall journey and the long-term goals.
"This has to be a long-term view, a long-term journey," she says. "This is not a one-off measurement. It's a ritualizing measurement and learning year on year from that and progressing the agenda again and again."