Perhaps one of the biggest tasks that HR leaders have faced throughout the chaotic COVID-19 pandemic has been trying to build and maintain a corporate culture while employees toiled away—isolated at home or in worrisome, high-risk workplaces—many juggling new demands, heavier workloads, caregiving crises and myriad other concerns.
Many HR professionals soon found that building an inclusive culture for a largely remote workplace was no easy feat. But HR experts agree that creating a "culture of purpose" where employees feel valued and that their work has meaning is critical to building a healthy and successful workplace.
"We, as humans, are hardwired to feel a sense of purpose and belonging to what we do," says Gianna Driver, chief human resources officer for cyber security and compliance solution provider Exabeam and a keynote speaker for HRE's upcoming HR Tech Virtual conference. "To the extent that organizations are able to bring their mission, make it relevant to employees and explain to employees what they are doing, this has an impact of the greater whole" of the organization.
Doing that, she adds, is "how we start to create that purpose that we're talking about."
Purpose will be a central theme at the upcoming conference, which features several experts on the topic. Recently, HRE spoke with keynote speakers and session panelists about the role that purpose plays in workers' lives and why it could help slow the Great Resignation. Visit hrtechconference.com for more information and to register.
Related: Inside GM's zero-emissions talent pipeline 
It isn't a new topic for HR leaders, of course, but creating a so-called "culture of purpose" where employees are inspired in their jobs and feel they are working for a purpose beyond money has gained urgency since March 2020.
And for Driver, it's tapping into something universal: "I believe at our core that we all want to do good things in the world," she says. Instilling employees with an authentic sense that their work has "relevancy and impact and [produces] goodness in the world" does just that, going beyond motivation driven by money or a benefits package.
Josh Bersin, industry analyst, HRE columnist and opening keynote speaker, agrees. He says employees have been sharing their concerns and expectations with HR leaders and their CEOs. Workers are concerned about working in an office, want more diversity in their companies and want to feel "heard" by their employers, to name just a few concerns, but they also want to connect.
That's something that pays dividends beyond the financial, Bersin says. For instance, employee engagement levels and hiring and retention rates are better at companies with "a strong focus on a broader mission and purpose," Bersin says, citing pandemic-era studies.
That said, simply building a culture of purpose is not a magic bullet for retaining employees, particularly amid the work shift that began last fall, according to Stacia Garr, co-founder and principal analyst for RedThread Research, who will discuss how to clarify organizational purpose during her keynote presentation. Instead, HR leaders need to keep taking steps to improve a company's culture. 
"They should have been stepping up before and after the Great Resignation," Garr says. "They should continue to step up."
Tech's Role in a 'Culture of Purpose'
Beyond connection, a culture of purpose also requires that managers recognize how their employees are doing, when they're being pushed beyond their limits or if they need help to meet their goals, for example, and it might mean bringing in technology to support job functions.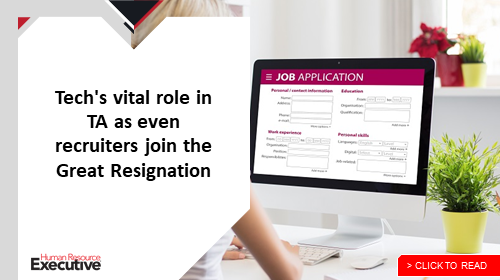 Just ask Kyle Lagunas, head of recruiting for GM. Last month, the company announced that it needs to fill 4,000 new jobs in manufacturing and 8,000 tech positions in the coming year. "We're not getting a whole bunch of new recruiters to meet this demand. We just got to buckle in," says Lagunas, who will deliver a keynote titled "From Frayed to Focused: Tying Together the Many Threads of Talent Transformation."
"We're trying to build an operating model that helps us to scale each recruiter's capacity and just help them to be more effective," he says. "This means reducing cycle times by introducing more data-driven decision-making and leveraging AI to move more quickly with candidates and hiring managers."
Related: Insights into EX, culture and innovation top HR Tech Virtual agenda
Other technology solutions, particularly those aimed at employee listening such as surveys and employee satisfaction tools, also have a role to play in building a culture of purpose, says George LaRocque, founder and principal analyst for WorkTech and another keynote speaker at HR Tech Virtual.
They can help organizations gather feedback, gauge employees' understanding of the company's purpose and learn how individuals view their purpose. "HR leaders must ask, 'How can I engage my employees and show how they can contribute to purpose?' " LaRocque says.
To realize that aim, an organization has to be proactive about embracing what it stands for throughout the entire entity, says Jason Averbook, CEO and co-founder of Leapgen and a spotlight session speaker at HR Tech Virtual. 
"When we talk about culture of purpose, it's really tied to intentionality making sure that our employee value proposition, our candidate value proposition, our employee experience and everything we do from a people function standpoint ties back to that purpose," he says. "If I don't do that, I have a huge opportunity for loss of people, which is one of the drivers for this Great Reshuffle of people."
Register for HR Tech Virtual here.