HR burnout is real amid the Great Resignation, but according to George LaRocque, founder and principal analyst for WorkTech, this is also a moment of great opportunity. To discuss HR's enhanced role in organizations due to the pandemic, HRE spoke with LaRocque ahead of his keynote address at the free HR Tech Virtual conference, which will take place online from March 1-4. Register here.
Entitled "No Room for Error: HR Tech for 2022 and Beyond," LaRocque's presentation at 4:45 p.m. March 2 will dive deep into the new wave of HR tech innovation and how HR leaders can ignore the hype to find the right solutions for their organizations. In this Q&A, he shines a light on HR burnout, how the return to normal will be different than we think and why most firms aren't ready for an internal marketplace.
HRE: What's the mood in HR as we approach the third anniversary of hybrid work? Are HR leaders and their teams facing real burnout? 
George LaRocque: They're not unlike the rest of the workforce. Given all of the stats and buzz about burnout, that applies to HR as well. They also have the added burden of feeling responsible for a lot. The CEO and the employees are looking to HR to help navigate this but at the same time, there's a great sense of opportunity as well. A lot of these trends, like hybrid work, create opportunities to rethink some things. On any given day, I am just as likely to bump into a frazzled and bewildered HR leader as I am to meet someone who's gung-ho and feeling like this is our chance to shine. 
HRE: This is a real historic moment for them and it's so prolonged. It's not like an isolated incident but a moment of real change.
LaRocque: If you look at other times like after 9/11, [people said] everything's changed. And then the pendulum swings and it kind of comes back. There are things that do change, like I can't just walk through airport security anymore and in the financial, housing or the dot com bubble … those things were big [and people thought] nothing will ever be the same again. Well, the pendulum then comes back and it might not be exactly the same but it kind of finds the center.
HRE: People are rethinking their work/life balance, for example. 
LaRocque: The arguments [HR professionals and analysts] have had are really a long case study or trial run. This includes the arguments about productivity and there are some jobs that have to be done in a workplace and nobody argues the benefits of interacting with other humans together. But the need to do that every day for eight to 10 hours a day, you've got a strong argument as an employee that you've been productive and maybe even more productive and the numbers don't lie. I was listening to a podcast from Scott Galloway, the NYU professor, and he said there's a cost savings of $30,000 or $40,000 per employee in real estate costs. I think until the pandemic is truly behind us, we're not going to know what normal is. I think we're still figuring this out. And definitely, the longer it goes on, the more it's going to look hybrid.
Related: HR Tech Virtual keynoter Josh Bersin on relieving employee burnout
HRE: What category of technology are HR leaders missing out on or ignoring?
LaRocque: There are a couple of things that might not be on their radar or might be oversimplified. The first is this new combination of a marketplace that provides not just talent or a job board providing talent, but additional services. There's a European company that delivers workforce management and shift scheduling, but it's also a staffing and job board. They had a big deal with Amazon. When Amazon puts a job in their system, they're not just getting candidates, they're getting employees showing up who are vetted and screened. I think that model is going to emerge more and more.

There's a lot of buzz about skills-based and talent marketplaces, but most employers are woefully unequipped to adopt a talent marketplace. It's not a new application that you just turn on—you must have all of your skills and competencies defined. You have to do so much work internally to be ready for a talent marketplace. [This requires] AI-based tools that categorize an employee or candidate's skills via assessment-based or behavioral psychology-based technology that identifies power skills or soft skills. This will give HR leaders the ability to pick from the right pool and hire, develop and engage in order to provide real career paths.
Related: How data is driving the exploding internal talent marketplace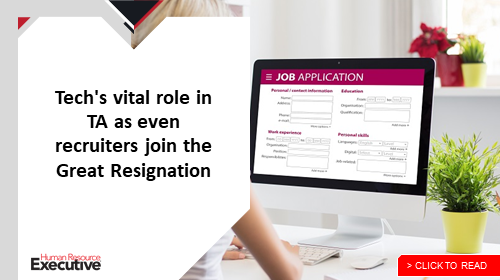 There's a ton of buzz about talent marketplaces, but only a few companies are really doing anything with it.
HRE: What drives your passion for this topic? 
LaRocque: My whole career has been in this world of people in HR and I've also built a lot of teams. Right now more than any other time, this is HR's big opportunity. It's been a real uphill battle to be at a place where we can impact the workplace at a high, strategic level with technology and better processes. A lot of these concepts about purpose, work-life balance and putting the whole human first are not new, but the things that we can do now and the impact we can have and the sort of focus on HR that exists today are new. It's never been like this. It's always been a much more uphill battle. 
This is a moment and it's exciting to be a part of that and to be here for this transformation.
Register for HR Tech Virtual here.