As the very busy chief human resources officer for cyber security and compliance solution provider Exabeam, Gianna Driver is not too tired to adopt new innovations. Whether it's new tools for measuring employee sentiment or thinking of ways to reach a new generation of workers, Driver is an enthusiastic booster of HR tech. HRE spoke with Driver ahead of her 2022 HR Tech Virtual keynote address, entitled "A Focus on Humanity and High-Performance Cultures," which is set for March 1 at 4:45 p.m. ET. She shared her insights into new HR technology that deserves attention, why the hybrid work model is here to stay and what is on her 2022 HR resolution list. 
HRE: What's the mood in HR right now? Is there real burnout out there? Are they still in putting-out-fires mode?
Gianna Driver: [Laughs] Yeah, it's busy. That's an understatement. The pandemic has catapulted HR to the forefront of conversations. We have been tasked with helping to address mental health issues and foster a sense of belonging and culture. In terms of culture and mission, I am energized when I think of what our function is. This awful pandemic has created a once-in-a-lifetime opportunity for us because we're able to show organizations and people the value that we bring by being strategic, data-driven, by embracing the humanness in all of us. It's tiring but at the same time, there's a lot of opportunity. 
HRE: The Great Resignation is changing the definition of work, the expectations of the employees and their willingness to leave jobs because they're not being fulfilled. Are you seeing that as well?
Driver: Yes and no. What I'm seeing in some of the younger generations is the pandemic has created an environment where, if people are not fulfilled, meaning they don't feel tied to the mission and purpose and values of the company, if they don't feel like the company is investing in their growth, if they don't feel like they're able to have work-life balance and their mental health needs met, they're saying, "no, I'm gonna tap out." And many of them do that without a backup plan. 
Related: Insights into EX, culture and innovation top HR Tech Virtual agenda
Some of the newer generations that are entering the workforce are demanding that employers and HR teams meet these needs, otherwise, they're leaving. With the Great Resignation, employers who were not answering that call are losing talent. I predict that they will continue to hemorrhage talent unless they address these issues. 
HRE: Are there any categories of technology that HR leaders are missing or ignoring?
Driver: The answer to that is very much yes. There is a part of HR tech dedicated to understanding employee sentiment. We talk about burnout and various stressors that are COVID related, plus geopolitical instability and racial tensions, or like any number of different stressors. There are some amazing tools right now in the HR tech space that allow employers to get a sense of sentiment so that HR teams and managers can proactively get in front of these things that would lead to burnout, attrition, etc. 
There is also a new breed of tools that are allowing companies to excel at hybrid working environments. There are tools that enable connectivity, whether that's through integrating with Slack and Microsoft Teams and chat types of functions to build culture and remote environments. There's a lot of innovative and fun stuff that I would encourage HR leaders to have on their radar because the future of work for most of us is going to be hybrid. 
HRE: What about managing data?
Driver: [Firms also need to look at] tools that allow HR practitioners to aggregate lots of data. We've got information right now coming at us through all of these different means that's wonderful, but it can be overwhelming at times. There are now tools that ingest information from different sources from the HRIS and exit survey data from performance review data. This can help HR professionals to derive actionable database insights. That's really exciting and I think that this is the next wave of HR technology.
Related: HR Tech Virtual keynoter Josh Bersin on relieving employee burnout

HRE: Do you have any HR tech or HR resolutions for 2022?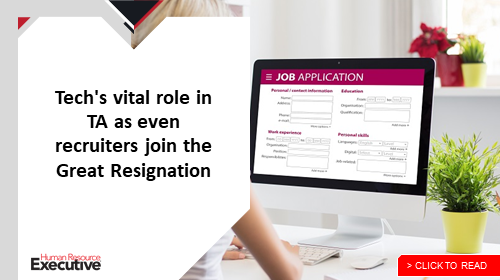 Driver: There are so many. [My resolutions include using] some of these data tools in these proactive ways that we've talked about. I get very excited about diversity, equity, inclusion and belonging. My team and I are committed to using some of these tools and the data that the tools reveal in order to help our organization become more inclusive, become a place where people feel heard, valued, seen, wanted and like they belong. These are some of the big themes that I get very jazzed about.

HRE: What's driving your passion as an HR leader?

Driver: That's a big question, isn't it? I've done a lot of reflection around my personal mission and why I exist. What is it that I want to do in the world? I love helping organizations create workplaces that allow employees to do their best work. I like creating workplace happiness and joy, and I think the place that is uniquely poised to do that is the HR space. We touch all parts of the business and I maintain that we are people first and employees second. In this space, we're able to help organizations embrace the full person to embrace their humanity.
Register for HR Tech Virtual here.