HR leaders are at the epicenter of a seismic shift in the way the world works. We can see that hybrid work is not only possible but effective. Flexibility is not only negotiable but expected. Wellbeing is not only integrated but integral. A corporate purpose is not only a slogan but a competitive necessity.
The spotlight continues to shine on HR as we address major challenges, from keeping our people safe as the pandemic evolves to reckoning with longstanding social injustice. Many people are tired, grieving, reevaluating their priorities, searching for a renewed sense of purpose.
These dynamics create tremendous competition for talent. In HRE's annual "What Keeps HR Up at Night?" survey, 60% of respondents cited recruiting and retaining workers as one of their top two challenges. There's never been a more exciting—or difficult—time to shape people strategy.
Related: Think purpose is a Great Resignation fad? Think again
Nobody has all the answers. We know our people need to feel a deep sense of belonging and purpose. That's a simple starting point when the big questions feel overwhelming. Our people should know we're there for them, especially during moments that matter.
Which moments matter most in this rapidly changing world of work? They're based on each person's needs. Some are predictable, others unexpected. Some involve a major life change; others are everyday tasks like walking your child to the bus.
It might be the moment a new engineer starts her first job, remotely: not just whether she has tools to connect in one place, but how her manager welcomes her. It might be the moment new parents need to start leave; not just whether they have the technology to get help from their teammates, but how their employers will support them with flexibility. Or it might be the moment a tenured employee takes a fresh career pivot: not just whether they have options to move and grow within the company, but how their managers encourage them.
Many of us have focused on moments that matter as we design our people strategies over the years. But today they are even more central to a winning people strategy. As these moments evolved, so have our chances to support employees—in real-time.
It has never been more important to nurture and invest in an inclusive culture, live our values, and let our people do purpose-driven work. That's why we've upended and reimagined our employee value proposition as a pact: Everything we do should help our people live their best lives, do their best work, and fulfill our purpose together.
Based on what we've learned about our current opportunity, here are three ways we can continue to evolve our approach:
Personalize your approach for each unique career journey.
No two employees are the same, nor are their career journeys. HR teams and managers need to create customized plans that fit the unique needs of teams while also lifting up individual goals. There's no such thing as a typical path based on a role, only tailored ones. If we don't help an employee chart that path, they will find another employer who will.
We also need to personalize learning and development plans to help us build employees as leaders, at every level and career stage. An employee becoming a manager for the first time will need coaching to have open, honest conversations with their team members in a hybrid world. An individual contributor may need more support managing up. Delivering these kinds of learning experiences in the flow of work will improve the experience. Most important, it will empower our people to be their authentic selves at work.
Prove you're listening through your actions.
We have more tools than ever to listen to our people. Listening is the foundation of a great people strategy, but it is only the foundation. The ground level requires systems, data and insights to truly understand what our people want and need. And building up requires concrete action to demonstrate we're willing to change. Our employees have told us, for example, just how much learning opportunities will help them thrive. That's why we've made growth and development a central pillar of our people strategy—we're listening, responding and investing.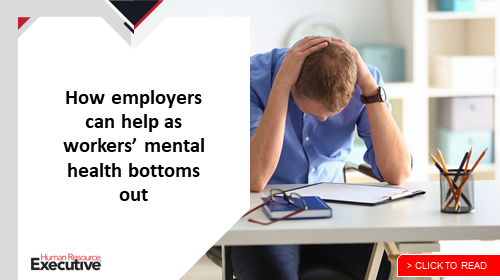 Related: Why employees seek learning in times of crisis
Leaders also need to stay curious and open, creating a culture of continuous learning and space for employees to be heard. We can't just pay attention during regular check-ins or annual surveys, but rather let employees share feedback in real-time: when they're onboarding, filing for leave, even completing tasks like updating benefits. Not only does this give employees the power to share their voice at every stage, but it gives us actionable insights to make quick improvements.
Simplify ways for employees to get what they need.
Little is more frustrating than the day-to-day, time-consuming tasks that sap our energy. That's why consumer-grade technology and experiences are so important, from accessing applications to requesting services. In a hybrid world, these tools and solutions need to work in the office, at home, and on the go. People have this technology in their daily lives, from ordering a sandwich to making a bank transfer. Why would they expect any different at work?
Related: Employees are demanding better work apps
Simplifying these processes makes a big difference, especially during moments that matter. When an employee needs to take an unexpected leave, they may need to quickly arrange backup plans. When an employee is new to an organization, they want to make connections with colleagues, not search for forms. We've seen a 125 percent increase in users of our own mobile tools year-over-year and a 377 percent increase in the number of sessions. The right technology enables this type of flexibility, and it contributes to a culture in which employees know they belong.
In the new world of work, employees are driving. We should embrace that shift. If we want to attract, retain and grow top talent, we will keep finding better ways to treat each person as the individual they are and help them wherever their journey goes.