General Motors CEO Mary Barr has issued a mandate to the U.S. automaker: zero emissions, zero crashes and zero congestion for its new slate of electric vehicles. These goals will require new thinking, new tech and a raft of new talent—12,000 new jobs in 2022, to be precise. And this missions falls on the shoulders of Kyle Lagunas.
As GM's head of talent attraction, sourcing & insights, he will oversee the team of recruiting professionals who will review more than 1 million applicants to increase the automaker's ranks by 20% from last year.
"We have more than doubled our hiring from 2020 to 2022, and this is a huge task ahead of us. This is what transformation looks like for talent acquisition," he said in his HR Tech Virtual keynote entitled, "From frayed to focused: Tying together the many threads of talent transformation." The free, online event runs through Friday; register here.
Related: How tech can help relive the burdens of talent acquisition pros 
Despite GM's vast size, the challenges its TA team faced in the past two years resembles those of smaller companies. Its team is overburdened and under-resourced, and Lagunas said they have been chasing "business-as-usual KPIs in an environment where business is anything but usual."
The result has become what he called "a reactionary recruiting operation at its finest." For example, once a new job request is opened and a GM recruiter begins working on the req, there are 25 other reqs they're working on simultaneously. "You hope you get it closed as soon as possible. The only goal is hire someone," he said.
This pushed Lagunas to initiate three RFPs for recruitment technology in the very start of his tenure at GM two years ago. 
The challenge is not just finding new tech but to catch up, optimize and modernize work in just months, instead of years, he said. This has meant challenging GM's TA and IT teams to consider new questions as they procure the solutions: 
What if we are proactively attracting the kinds of talent that we need to be the most inclusive company in the world? 

What if we are constantly looking for new and emerging talent pools and setting up operations that tap into them? 

What if we are able to engage with past, current and future candidates outside of an apply-and-interview process?

What if we are able to surface the best candidate for every role instead of just scrolling through every single application we receive?

What if GM were able to nurture and engage with the talent that it attracts continuously instead of just when we have a job that needs to be urgently filled? 
Lagunas admitted that GM's talent acquisition organization had been in survival mode for so long that it needed to invest time, energy and money to upskilling its TA team to answer these questions. This meant empowering the front line to be advisors to the business and create a richer experience for candidates as well as to become better collaborators across the hiring functions, he said.
GM's new TA tech
When it comes to the tech, GM purchased several new pieces of TA gear recently. Lagunas started with a new CRM from Beamery, where he formerly worked, and an AI-powered matching and scoring solution from Hired Score to provide data-driven decision-making.
The drive to deliver conversational AI to candidates led GM to partner with Paradox. Its solutions allowed GM to augment and extend the operating capacity of its recruiting team, he said. 
See also: 6 tips for choosing the right HR technology
"By implementing Paradox, we're able to free up recruiters to stop trying to chase down hiring managers for times on their calendar. Our coordinators can be more strategic and focus on delivering more because they're not getting bogged down," he said.
The final solution was a global careers website from Ph.Creative. "I want somebody who's logging in from Brazil to see roles that are open in Sao Paulo, and I want people logging in from Boston to see what remote opportunities exist," he said of the platform's capabilities.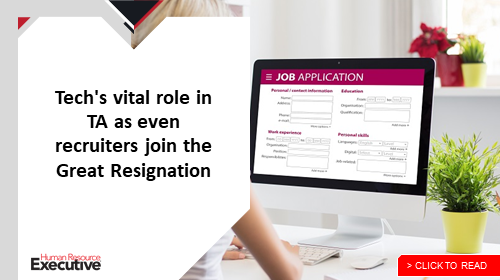 TA never sleeps
Making sure his TA team has the tech it needs—along with funding new talent and making the case for TA investment to departments across GM—is what drives Lagunas. And although he said that he doesn't have trouble sleeping at night, he admits he does get preoccupied thinking about ways TA can support all employees in their efforts to advance their careers.
"I want you all to have a new, awesome job that is going to pay you 20% more and I want this project to be your swan song that jettisons you into another career," Lagunas said. "That keeps me up because that's a lot to deliver."
Registered attendees can view the entire Kyle Lagunas keynote and other HR Tech Virtual presentations here.