There are few companies as synonymous with the COVID-19 pandemic as Moderna.
The pharmaceutical and biotechnology company was in full force trying to help the world as it rolled out its mRNA COVID-19 vaccine beginning in late 2020.
Related: How Moderna's people strategy helped create its COVID vaccine
At the same time, the company was working hard to help another important population: its own employees. It's an effort that continues as Moderna employees remain focused on rolling out the vaccine in countries around the world and face the same challenges as many stressed and burned-out workers around the globe.
Moderna employees, many of whom work long hours, have been dealing with intense pressures as their vaccine efforts have been in the spotlight. "We were in a race to save lives, so our folks were working around the clock—and they continue to work around the clock—to produce the vaccine," says Erin Sarin, senior director of global benefits at Moderna. "It's been a very unique experience. Burnout is a concern for everyone; we're not excluded from that list."
Not to mention, Moderna has been growing rapidly. Prior to the pandemic, the Cambridge, Massachusetts-based firm had roughly 700 employees; today it has more than 3,000.
At the center of its strategy to help employees? Benefits. Moderna already had a list of comprehensive offerings, including competitive healthcare, dental, vision, 401(k), generous time-off policies, and 18 weeks of paid parental leave, family leave and medical leave.
But especially in a COVID world—one in which employees were dealing with more pressures and stress than ever—Moderna knew it had to go deeper and fill in the gaps, says Sarin, who started at the firm in June 2021.
"When I joined, it was really just trying to figure out, 'OK, where are there some issues and people not getting the support that they need?'"
To help identify those, she decided to go right to the source, conducting a listening tour and asking employees what was working, what wasn't and what kind of support they wanted from the firm.
Some of those needs were COVID-related—things like flexibility or support for working parents in the hybrid work environment. Mental health and burnout were also top of mind for employees. So were having access to care for their family members and an enhanced focus on overall wellbeing.
Moderna added such benefits as infertility coverage and access to wellness coaches, along with support for its parent population, with popup childcare, a backup daycare program and even sending home food for families. Rethinking support and helping employees in a holistic way is a lasting lesson for all HR and benefits professionals, Sarin says.
Related: HR needs to help working parents—through the pandemic and beyond
"There's a real sensitivity to the whole person and supporting our families and having an understanding around what it means to be mentally unwell," she explains. "Wellbeing is foremost in everyone's mind. It's more than just physical, financial, social, behavioral—it's also the environment that we provide you to work in, it's the relationship that you have with your boss, it's your commute to work. Pulling all of those different pieces into our thinking and really creating this intermingled experience and design thinking across the organization is what I've seen from leadership."
Another area that Sarin found needed improvement was communication with employees. As at most workplaces, employees were often unsure of the offerings available to them and how to access them.
"When it comes to communication and engagement discussions, sometimes it's around a lack of awareness or perceived lack of a benefit or something like that," she says. "Alongside identifying opportunities for where there might be gaps in benefits or coverage, it was around what people were aware of, and using that to inform education." Moderna has since added intranet capabilities so employees can browse benefits and find information on their offerings.
Also see Do you have a long-haul COVID strategy?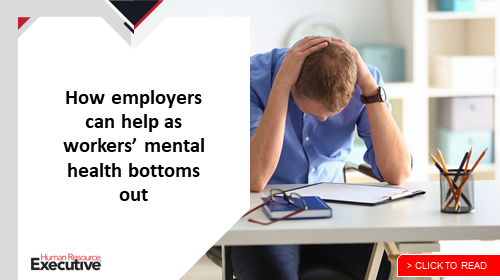 All these areas, she says, have been important in supporting and retaining employees during the pandemic, but also in Moderna's efforts to attract talent—especially amid the Great Resignation, in which scores of employees are leaving their jobs. The talent market is hot everywhere, but that's especially true in tech firms where employees are often poached from competitors. Companies like Moderna, for instance, often work to recruit and attract talent from larger biotech companies.
"We're an organization that has a very strong mission. A lot of the folks who are switching jobs and looking for new opportunities really are looking for something that speaks to their soul. Just the work that we're doing at Moderna in and of itself is attractive," Sarin says.
Part of that attraction piece is ensuring that Moderna retains a small-company feel and startup spirit even as the firm continues to grow, Sarin says. Doing so ensures that its employees feel valued and cared for.
The startup spirit, too, means that Moderna—and Sarin—can get more creative with solutions and benefits. "People are accepting of us to try out new things or pilot programs and ask them for their opinions. People are really willing to be honest and be part of the design and partner with you."
It's a spirit that Sarin says will help Moderna—and other firms, if they want—succeed through the pandemic and beyond.
"It's having the appetite for innovation and change and the ability to do really creative things and invest in things that really haven't been done before. Because we're not breaking down something that's broken. We're building it for the first time."