The latest variant of COVID-19, known as Omicron BA.2, is among the latest hurdles for HR leaders as they strategize everything from safe return-to-office strategies to possibly reinstating mask mandates. A less-discussed but also important challenge is the impact of long-haul COVID-19—on productivity, disability, HR communications and other workplace issues.
Long COVID, officially called Post-Acute Sequelae of COVID-19 (PASC), is occurring among people who did not have severe COVID infections, Dan Jolivet, The Standard's workplace possibilities practice consultant, said recently.
"Since there are so many more people who had a milder version of COVID-19, the number of people with long COVID is pretty high," Jolivet told an audience at HRE's Health & Benefits Leadership Conference this month in Las Vegas.
In fact, PASC is estimated to occur in 10-30% of COVID-19 survivors, said Charles Glassman, associate medical director at The Standard, who also spoke at the event. That means it will sicken between 3.1 and 23.6 million people—or 2-24% of the workforce.
Also see: Mask mandates are falling. Should HR be ready to bring them back?
Unlike the well-known COVID symptoms, long COVID symptoms include anxiety, depression, joint pain and sleep issues, often lingering or showing up long after the original symptoms have passed, Glassman said.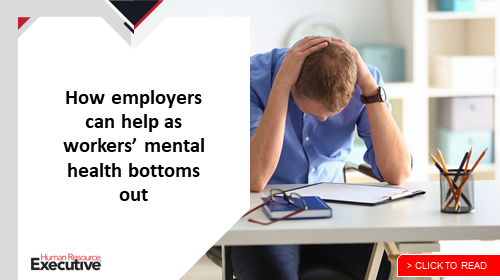 And the medical community is still learning about the illness, Jolivet added. "There is not a single, clear definition yet. This is a new disease."
Still, experts know some things, including that its effects will be more evident in jobs that require a high level of physical exertion, such as construction. Still, those in less physically demanding jobs might still show up for work hoping to fight through the brain fog and fatigue that accompany long COVID, Jolivet said.
Also see: Mental health, addiction go hand in hand—and COVID is making both worse
"You're likely to see presenteeism, where they're not at their best," he said. "Their productivity and quality of work goes down."
In addition, because long COVID is a medical condition protected by the FMLA and the ADA, employees suffering from it are likely to become one of the largest groups of workers requiring disability accommodations, said Jolivet.
And because the symptoms can be subjective, employers can't take a one-size-fits-all approach to disability considerations, he said.
Employees impacted by long COVID may not realize accommodations exist that could help them return to work. Jolivet suggests six steps employers can take to educate and engage employees in getting help:
Identify the workplace issue(s) impacting employee performance.
Meet with the employee in private.
Explain reasons for concern and ask, "how can I help?"
Listen with empathy, not judgment.
Offer appropriate resources for coping.
Follow up.
"If you ignore complaints or don't work with an employee, you could be at legal risk," he warned.
Finally, encourage employees to seek ongoing medical care, Glassman said.
"It's very important to support people with PASC and (with) getting a correct diagnosis," he said. "There are clinics in all 50 states, many affiliated with major medical centers. It's important to get the right care [because PASC is] a multifactorial issue: cardiac, pulmonary, etc."