Everyone is talking about returning to the office, but Amy Coleman of Microsoft says that the world isn't returning but instead is moving into the future of work. In her opening keynote at the Women in HR Tech Summit on Tuesday, she told a packed ballroom about her experience with bringing employees together for the moments that matter most to a flexible and inclusive workplace.
A once-in-a-century opportunity for HR leaders
Coleman, corporate vice president of HR and corporate functions for the tech giant, paints the picture of a time of great opportunity for HR professionals, a once-in-a-century shift in how the world will work. Driven by the pandemic, social justice movements and the rise of new technology, HR leaders today are at the helm of delivering solutions that work for both employees and employers in a time of monumental change, she said.
Related: Read more HRE coverage from the HR Tech Conference.
"It can't go back to the way it used to be," said Coleman, reflecting on the conditions that pandemic-era remote work created. "It was sort of a false hope that we could bring people together the way it used to be."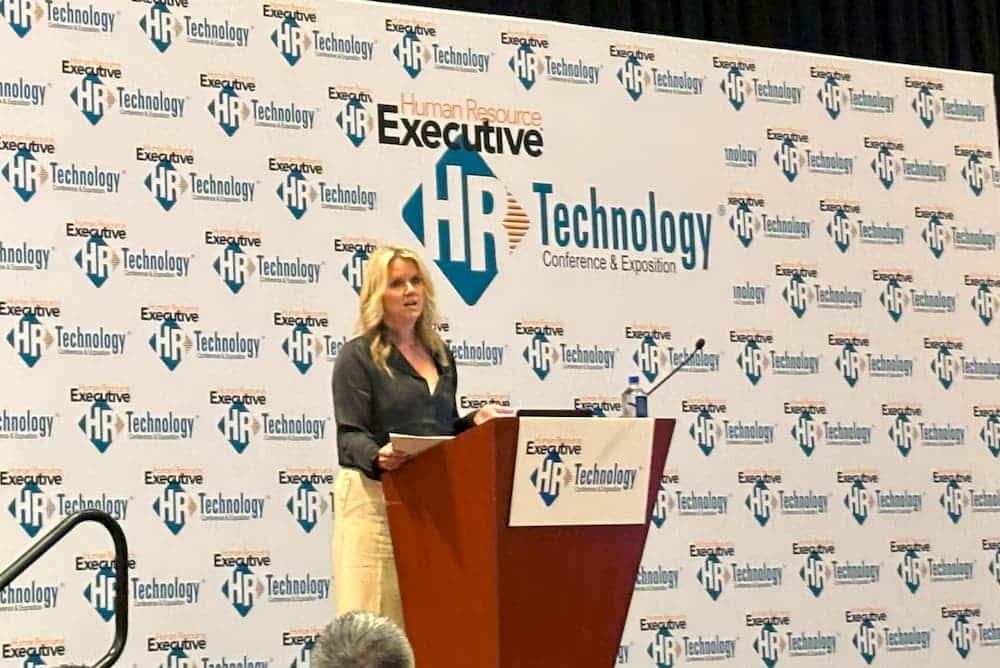 Based on internal research, Microsoft employees value community, flexibility, growth and wellbeing. As pandemic restrictions eased and fewer teams were physically located together, Coleman said HR leaders had to learn how to build a workforce dynamic that could balance flexibility while also building connection and collaboration between work colleagues. 
"It's almost an impossible problem to fix," Coleman said, referring to providing the flexibility employees want in the face of two statistics. More than 70% of employees want remote work and flexible schedules to remain in place. Yet, more than 65% of them also want more in-person time with colleagues.
Convince with data, not dogma
Microsoft is a company born by engineers, so Coleman knows that convincing with "data over dogma" was the only way to balance the priorities of flexibility, productivity and in-person time.
"We used listening to our employees as a real signal of how we will change our company," she said. A combination of active listening (surveys and direct feedback) and ambient listening derived from tech-driven insights delivered the data her team needed to start making workplace decisions based on moments that matter for employee togetherness.
Addressing the issue of feedback fatigue, Coleman advised HR teams to avoid asking compound questions or phrasing them in a way that fosters entitlement. Valuable feedback should be actionable and incorporate "hallway language" rather than wordy jargon. She advised that HR teams should demonstrate responsibility to act or explain any delays. Surprisingly, insightful feedback often requires asking fewer questions, according to Coleman.
Building structure and flexibility
Microsoft used a tool called Team Agreements, designed to facilitate conversations within work teams, to determine a set of unified values. The result is a philosophy called "structured flexible work," which gives teams more control over how often to work in the office. Data revealed three key moments that matter for in-person work: strengthening team cohesion, onboarding to a new role, team or joining the company, and kicking off a new project.
For instance, employees who met their manager in person within 90 days of starting a new role were 10% more likely to ask colleagues for feedback compared to people who didn't get that face-to-face connection. Microsoft research also demonstrated that employees with positive team relationships are less likely to change in employers and demonstrate higher productivity. In-person contact during the early stages of a new project builds trust, sparks innovation, and gets people on the same page, said Coleman.
Once a plan for bringing people together for these moments is in place, the remaining work schedule can be more flexible based on team needs. She reminded HR leaders that flexibility isn't the same for everyone and can also shift as an employee moves through their journey. It's an individualized topic, said Coleman. "It's a definition to get really curious about for your own employees." 
Actionable advice for your HR team
Coleman says that organizational leaders look to human resources for best practices, and employees lean on human resources for proof that their feedback is being considered. Wondering where to start with this in your organization? Here are Coleman's insights for building a workplace that balances structure and flexibility:
Leverage employee listening by relying on data, not dogma.

Bring empathy for all sides, both the employees and the employer.

It's not all or nothing; this is why hybrid work has gained traction.

Start thinking about how AI will transform the future of your workplace.