When we talk about the Great Resignation—the voluntary exodus of nearly 40 million employees from the U.S. workforce since last spring—we tend to focus on the "why." Burnout. The search for better benefits or work/life balance. Concerns over health and safety. The pursuit of advancement opportunities. 
The subsequent talent shortages and pressures on remaining teams lead many to fear the feeding of a vicious cycle. To address these concerns meaningfully, however, we need to stop focusing on the "why" and start focusing on the "what." 
What is missing in our workplaces that would lead so many to sacrifice the security of employment for the uncertainty of an unknown future? What is the remedy for ensuring the wellbeing, productivity and fulfillment of those who are left behind? What is the common thread that ties these concerns together?
The short answer is appreciation. The longer answer involves a multifaceted look at how we view employees and leaders, and how the pandemic has caused not only a shift in employee focus but also a change to the dynamic among them. Understanding that evolution and these four trends that highlight it will be critical to an organization's success in the future of work:
This year will see the launch of a new learning economy.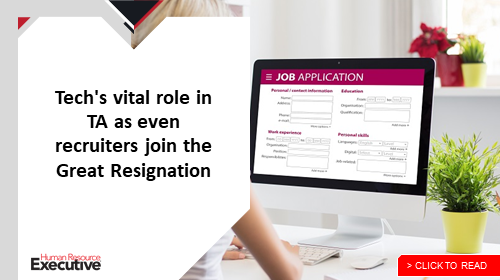 Over the course of the pandemic, many people took advantage of opportunities to pursue development opportunities online. For those who had not been previously tapped to participate in in-person or off-site learning and development experiences, it was an awakening. This shift in perspective will drive a "learning economy" this year, led by those organizations with the ability to provide L&D opportunities that are bite-sized, offered frequently and on demand, and feature democratized access so as to be available at scale.
See also: Do promotions slow down the Great Resignation? Cisco's CHRO thinks so
The need for leadership development is real and growing.   
As the learning economy brings L&D opportunities to those outside of the C-suite or senior management, it highlights the acceleration of trends in progress. Leaders were already recognizing the need for further development to meet the daily challenges of new technologies and business approaches driven by digital disruptors. Now there's been a significant increase in the number of senior executives seeking training. In light of the pandemic and now the Great Resignation, however, organizations are realizing that the types of capabilities they need their leaders to possess have also changed.
Future-ready leaders require post-remote capabilities. 
In early 2021, demand for change leadership, strategic leadership and team leadership capabilities were at an all-time high. We were out of lockdown but still navigating operational pivots, projections for the presumed future and the specific challenges of managing and maintaining or growing remote teams. As organizations began moving toward a "post-remote work" environment, however, it became apparent to many that agility and understanding weren't enough. Thriving in an environment of ongoing change requires a deep knowledge not only of strategic business transformation, but also the ability to create and communicate a culture of inclusion, empathy and connectivity—a unique aggregate of skill sets that many of today's leaders might be lacking.  
Development equity will be key to achieving sustainable diversity.
Although organizations need to encourage the pursuit of new capabilities for their leaders to be future-ready, they also need to address barriers to developing leaders who are representative of the future of work. The gap between expressed commitment to diversity, equity, inclusion and belonging, and measurable DEIB progress or achievement persists. Without development equity—equitable access for underrepresented groups to career-enhancing development opportunities—DEIB efforts have no foundation on which to build. Many organizations fail to recognize the inherent biases in their recognition, selection and leadership pipeline processes; yet, sustainable diversity is a reflection of culture and the infrastructure and processes put in place to support and nurture it.
Related: Think purpose is a Great Resignation fad? Think again
HR executives and practitioners are crucial to what has become a marketplace imperative. Organizations must realize it's not just about upskilling employees to meet labor needs, it's about providing equal opportunities for career-enhancing development for a greater sense of purpose. Organizations without the proper infrastructure and resources to support the personal wellbeing and professional development of employees and leaders will find themselves significantly less competitive in the future of work. 
Meeting that imperative involves upskilling where applicable, anticipating for tomorrow and asking employees, leaders and other stakeholders what they see as long-term needs. That's where trust, respect and partnership come into play. Employees have shown they want to be seen, heard and have their concerns honestly considered and addressed. That means senior leaders—including HR professionals—need to not only devise plans but communicate how they will track, analyze and quantify progress toward these goals.
The journey from the fatigue and frustration embodied by the Great Resignation to the promise of a Great Revival rests in the hands of those who understand that the future of work may be no less complex in function, but in its form is unapologetically human, authentic, collaborative and hopeful.