That's the number of sessions scheduled for this week's free HR Tech Virtual conference. Over the course of four days, more than 120 speakers will present insights, data and solutions around today's most pressing HR challenges.
Analyst Josh Bersin will set the stage with his opening keynote addressing what's ahead for HR and the technology market, beginning at 11 a.m. Tuesday. Throughout the rest of the week, such topics as emerging work technologies, employee experience, people analytics, talent acquisition, recruiting, culture, engagement and much more will take center stage.
What it means
HR and HR technology leaders can log on for a single session or for dozen of sessions to learn from experts and thought leaders. In addition to seven keynotes and two spotlight sessions featuring analysts and HR leaders, core sessions will present data that's driving vendor work to solve HR challenges. Register here.
Related: Insights into EX, culture and innovation top HR Tech Virtual agenda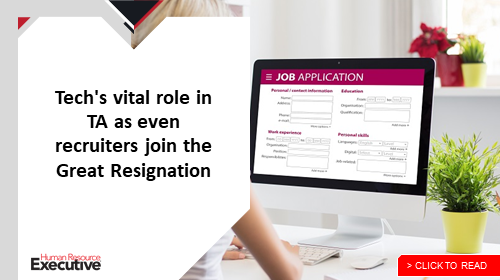 At 1 p.m. Wednesday, for example, iCIMS' Christy Spilka, vice president, global head of talent acquisition, will address how employers can manage talent amid the Great Resignation, sharing innovations in attracting and engaging talent, as well as using internal mobility to boost retention and ultimately improve productivity and achieve business goals.
Later that day, Salesforce leaders in people analytics (Ernest Ng) and digital transformation (Jen Galbraith) will discuss "Employee Engagement in the New World of Work," sharing how using a combination of data, tech and company culture can help organizations to connect with workers.
Those are just two examples of powerful sessions taking place this week. In addition, Demo Sessions, HR Tech Talks and Solution Provider Sessions will delve deeper into technologies and how they work. Check the full agenda for more details here.
Attendees also can attend live question-and-answer sessions with the keynote speakers, interact with colleagues in the Networking Lounge, engage with speakers using the platform's chat function, visit the event Product Gallery, pick up swag from more than a dozen companies and enter to win raffle items including an Apple Watch, a Roomba, $250 and more.
"Meeting as many of our amazing attendees—CHROs, chief people officers, HRIS leads, systems consultants—as possible is one highlight of the virtual event," says Jeanne Achille, chair of the event.
Related: 9 things to learn this week at the HR Tech Virtual conference