The tech world may be marching into the future on a path lit by artificial intelligence and machine learning, but most human resource leaders are spending their days trying to solve challenges around talent acquisition, retention and the Great Resignation. 
In HRE's annual "What Keeps HR Up at Night?" survey, our 820 respondents overwhelmingly cited hiring and retaining key talent as the greatest single challenge ahead. HR technology experts were hardly surprised.  
"The pain is real. Organizations are not overblowing this," said Stacey Harris, chief research officer and managing partner of Sapient Insights.
Considering this significant concern, technology has a critical role to play in providing HR leaders some much-needed peace of mind, Harris and other experts say. The topic will get some focused attention next month during the four-day, free HR Tech Virtual Conference, with keynotes including Josh Bersin on the future of the technology market and GM talent leader Kyle Lagunas presenting "From Frayed to Focused: Tying Together the Many Threads of Talent Transformation" on March 4. Register here.
Related: What's Keeping Up at Night? The Great Resignation and more, our survey shows 
To start, Harris says, current hiring and retention challenges are pushing HR leaders to rethink the very definition of talent and what they expect from newly hired employees. "[Until now] I think we've been able to get away with a market where we've had an abundance of talent that was willing to move from job to job and continue to increase productivity and performance without increasing the overall salary ranges too much." 
"[Today] I am hearing a lot more conversation about internal mobility, finding the right behaviors and the right attitude and building the skill sets around that," instead of expecting employees to be experts early in their careers, for example, she says.  
At the same time, HR technology may have played a role in the disconnect between employers and employees, which is among the factors driving workers to leave their jobs at a record pace in recent months.
"HR needs to take ownership of the fact that it has allowed us in many organizations to become less personal and more optimized to automate HR—to a level where we don't know our employees," she says. "The Great Resignation is not a conversation about job match; it's about the fact that we haven't been listening to employees." 
HR leaders turn to AI's promise  
Experts are resounding in their belief that cutting-edge technology has a major role to play in today's HR landscape, despite AI's modest showing on our survey as a specific issue of primary concern right now. AI and other advanced technology can, for example, improve efficiency in the hiring process, according to Madeline Laurano, founder of market research firm Aptitude Research.
Laurano says that AI matching has been playing a significant role in helping recruiters identify company priorities by requiring them to create thorough yet concise job descriptions for open positions. Most AI recruitment tools also use a semantic search feature that goes beyond keyword searches of a candidate's resume by interpreting the recruiter's intent and the contextual meaning of the search. Further, ethical AI has the potential to reduce both inherent hiring bias and improve efficiency for recruiters.  
In addition, Laurano believes that HR leaders are using AI but don't realize it. "Sometimes AI is talked about as if it's just a separate solution that they need to invest in when AI is part of a lot of existing technology solutions within work tech," she says. 
AI presents challenges to HR leaders, according to Rebecca Wettemann, principal at research firm Valoir, especially in the wealth of data—yet dearth of action items—that it delivers.  
"Everything I do as an HR manager with AI, I have to be able to explain to everybody else and in a lot of cases, HR technologies have not made that easy for me," Wettemann says. "Why am I going to the effort to learn new tools and data science if ultimately it just exposes me to more questions, more debate and more work?" 
Wettemann points out that HR managers have their hands full with day to day and week to week tasks.  
"I have enough trouble just gathering all the data that I need to gather and reporting on it in a reasonable timeframe, let alone layering another layer of intelligence on top of this," says Wettemann. "The tech and tools are getting better, but I think the HR tech veterans also realize we can't just talk about how wonderful AI is. We have to show HR what is in it for them." 
Tech's role in the Great Resignation 
It's no surprise that our survey respondents named COVID-19 as a chief driver for the Great Resignation as the third anniversary of the pandemic lockdowns approaches. 
"We are a small company and our workforce is largely comprised of early-career employees," one respondent wrote in late November. "The lure of career ladders in other, larger companies is difficult to compete with. Also, being in NYC, our workforce needs to take public transit to come to the office. With the resurgence of the new COVID strain, our plans to Hybrid – RTO (return to office) in January may need revisiting."  
In response, HR leaders are looking to internal marketplace, upskilling, mentoring and employee listening tools to help reverse the employee exodus.  
Laurano says focusing on employees' skillsets helps develop "a deeper understanding of your talent to help move them into new opportunities, to think about internal mobility and develop your talent to help them feel more engaged," she says. This helps them believe "they have opportunities at their company and not somewhere else."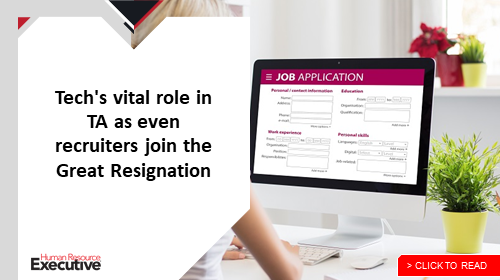 Upskilling and learning also have a key role to play in mitigating losses from the Great Resignation and driving that internal mobility. When asked what workforce or HR tech organizations are missing and most in need of right now, 31% responded upskilling/reskilling/learning. Meanwhile, 21% responded vaccine tracking and testing, and both onboarding and employee listening earned 20% of votes.
Related to learning, Wettemann is seeing a "huge opportunity" in technology-enabled coaching and peer-to-peer mentoring, which once were available to only C-suite executives eyeing CEO and president roles. "That's a real opportunity, particularly as we think about hybrid work moving forward for companies, to differentiate their employee experience," she says.
And employee listening is critical for retaining employees; it's also an area where HR leaders have a lot to learn, according to Wettemann. Employees have been "surveyed to death," she says. "In a lot of cases, [surveys are] checklist items rather than doing the real work for managers and HR. How do we create listening for employees that listens to their work habits and patterns without being a Big Brother so we can identify folks who are at risk or burnout before they walk out the door?"
HR leaders must learn to apply these modern employee tools effectively, Wettemann says. 
"There are better ways to understand how employees are doing," she says, "and assess where the gaps are in the employee experience that may lead employees to consider leaving."