As the COVID-19 pandemic started spreading, most HR leaders had the option of offering remote work to all employees when the pandemic started in early 2020 but this wasn't a possibility for Mary Moreland, executive vice president of human resources for global healthcare technology provider Abbott.
Many Abbott factory workers had to remain working on site and sometimes seemingly around the clock, particularly as COVID-19 testing and vaccines became a reality: Since the start of the pandemic, Abbott has distributed more than 1.4 billion of its rapid tests that includes BinaxNOW, Panbio, ID NOW and others. Just after July 4 last year, Moreland oversaw a plan for COVID testing Abbott's own employees and implementing a back-to-the-office plan soon after for those who had been able to work from home. The healthcare firm now tests around 35,000 employees—no matter their vaccination status—on site each week and monitors vaccination and booster status for its 113,000 employees in more than 160 countries. 
During this time, Moreland, a keynote panelist at the upcoming HR Tech virtual conference, also oversaw the hire of 5,000 new employees in its global offices.
Along with hiring, Abbott is also working to counteract the Great Resignation with an emphasis on data and people analytics. Abbott uses predictive technology with 300 data elements, such as text analytics, to identify hot spots in its employee engagement survey data. This allows Moreland and her team to recognize and address potential pain points within Abbott that might arise in the next 12 months. 
"This lets us hone in and listen to our people to understand what is it that's driving that potential hot spot and how [to] address it," she says. "What do they need, and what can we do to provide those needs so that they stay with the company?"
Her keen focus on retaining talent, Moreland says, has highlighted problems with traditional retention efforts, like exit interviews, which she said often don't offer crystal-clear insights into why an employee quits. "By the time you're doing an exit interview, it's just telling you what's in your rearview mirror," she says.
"You don't get a lot of rich, honest information. That's why I like this more forward-focused [predictive analytics] approach. It's saying: 'We need to look here. There's something going on here,'" she says. "That enables the HR team to dig into those places that we can pinpoint, which may become hot spots."
While she says the efforts using predictive technology are in their "early days," Moreland and her team looked at historic data to benchmark their initial findings. 
"We feel very confident that it's going to be highly predictive and highly effective. And obviously, the timing is certainly right for that," says Moreland, who has a bachelor's degree in applied math and economics from Harvard University.
Moreland will share her expertise and experience on hiring and retaining talent in today's roiling job market during an HR Tech Virtual panel discussion with Francine Katsoudas, executive vice president of human resources at Cisco: "Where Purpose Meets People: HR's Time Has Come." Mark Stelzner, founder and managing principal at IA HR, will moderate the conversation, which begins at 11 a.m. ET March 3. Register for the event here.
Related: Insights into EX, culture and innovation top HR Tech Virtual agenda
Both Cisco and Abbott have had to deliver innovation and support to aid other organizations and their employees during COVID-19, says Stelzner. 
"The rallying of Abbott scientists and researchers to bring forward things that we now take for granted such as rapid COVID testing," is remarkable, says Stelzner. "And for Mary to occupy the dual role of leading the same complex environment while activating her team and supporting the kind of innovations and recognition that Abbott has achieved in supporting the globe through this crisis, it's to be heralded."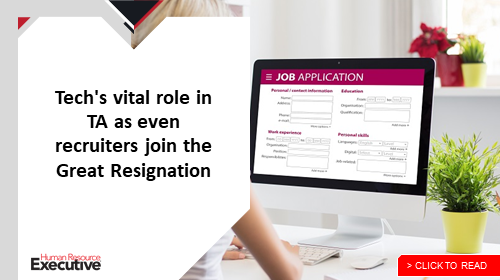 Moreland recognizes that her role also has the best opportunity to impact people's lives for the better—and this helps attract talent and keep them working at Abbott. 
Abbott employees not only had to work longer hours to research and manufacture their family of rapid COVID tests, they also had to maintain production and distribution of their mainstays, such as infant formula and other nutritional and medical necessities. 
"We had employees literally sleeping on site so that they can keep producing our products," she says. "That has really been inspiring to all of us."
Register for HR Tech Virtual here.