Mental health has taken center stage throughout the pandemic, but many HR leaders will agree that the dynamic has shifted again and requires new approaches tailored for today. Employers are increasingly pursuing in-person and hybrid models in 2022; according to an Envoy survey, 77% of employers have adopted a hybrid work model, representing a significant turnaround from April 2020, when two-thirds of office workers were fully remote. For HR leaders, this shift presents new and delicate considerations for mental health in the workplace.
How the office intersects with mental health
Just as we know that the future of work is evolving and won't be determined overnight, we know that opinions about office returns are diverse. Whereas some employees will be excited, others will have hesitations, including complex ones that are not always or only tied to COVID-19. This is OK. What's crucial is to acknowledge this diversity of opinion and then take steps to help everyone get comfortable and to make the experience better for them.
To accomplish this, think about what makes your team strong. Solicit feedback. Talk to peers across the industry. Be open, honest and vulnerable with employees, knowing that no one's experiences will be quite the same, including your own. With empathy and due diligence, HR leaders can remove blind spots, like those revealed by a Mind Share Partners report conducted in late 2021. The report found that while employees were more willing to open up about their mental health struggles than before the pandemic started, almost half who did, said their experiences were not positive.
There's room for growth as we reimagine on-site work. The good news is that, over the past two years, HR leaders have successfully navigated organizations through novel challenges with a mix of creativity, compassion, and transparency. We can and must tap into those same qualities today, to ensure mental health support is both visible and tangible.
The question then becomes, where do we start? No two organizations are exactly alike, but these general strategies can help inform tailored approaches.
Bring mental health under the DEI umbrella.
As organizations everywhere either embark on or double down on their diversity, equity and inclusion journeys, mental health and neurodiversity are important aspects of DEI—and key to building a truly inclusive workplace culture. Recognition and visibility are powerful tools to help employees feel comfortable discussing a myriad of topics, with mental health being no exception.
Employee Resource Groups, or ERGs, can create a safe space for open and honest discussions and help foster a sense of belonging. With that connectivity, employees will soon find they're not alone and have the support of their peers. For instance, one of our newest ERGs at John Hancock, called Ability, is committed to fostering such an environment by building a culture of differently-abled inclusion, both visible and invisible, for employees and their families. Another advantage of ERGs is that employees may be more comfortable seeking help or speaking up when they need it—especially crucial when accounting for mental health needs.
Offer benefits inclusive of mental health.
How a company allocates its resources says a lot about its priorities. That's why organizations keen to support mental health should lean into meaningful mental health benefits. Just as benefits provide concrete support, they also send a clear message that your organization is committed to mental health, now and into the future.
This is something we've invested a great deal of time in considering at John Hancock. As a result, some of our mental health offerings today include outpatient mental healthcare; free, confidential, around-the-clock virtual access to mental health professionals; and free access to therapists via video chats, texting, or through an app. Additionally, we have an on-site mental health counselor in the office. We've also given employees five extra personal days this year, something we've offered since the beginning of the pandemic to allow employees to rest, recharge or maintain flexibility.
Mental health benefits can also be fun and unconventional. For instance, we knew many of our employees were working hard to balance family life and work at the outset of the pandemic. To help lighten the load, we introduced a virtual camp designed to encourage learning and fun while celebrating our values, as well as after-school clubs for kids who want to stay healthy and active, learn about money and investing, or read and discuss books with their peers.
Create opportunities to talk about mental health.
As HR leaders, we need to create opportunities to discuss mental health often and openly. For example, May is Mental Health Awareness Month in the U.S.; why not leverage the moment by launching timely support systems?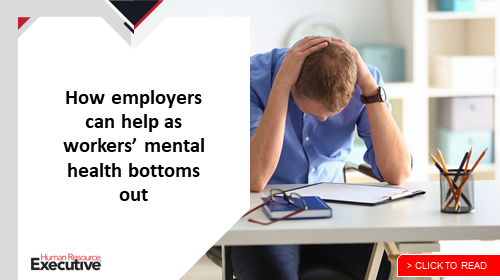 A few things we're trying at John Hancock, together with our parent company Manulife, include consolidating our mental health resources into an easily accessible website; empowering managers with tools and training to better support employee mental health; rallying peer ambassadors to promote events and initiatives as "Wellness Champions"; and encouraging employees through a new engagement initiative to take breaks and talk to their best friend at work.
On the programming side, we're hosting wellbeing webinars and workshops throughout Mental Health Awareness Month aimed at helping colleagues decompress, capped off by our company-wide speaker series event focusing on mental wellbeing. We've also announced Manulife CFO Phil Witherington as our executive ambassador for wellness, chosen for his knowledge of the impact of financial stress on mental health and his deep engagement with our ERGs.
"As we reflect upon the many challenges and changes of the past several years, one thing that stands out is the value of our connections with each other, and the importance of leading with kindness and empathy," Witherington said recently. "The shared experiences of isolation and uncertainty brought about by the pandemic have proved to be an opportunity to open the lines of communication to share the impacts each of us have felt, and to truly listen to one another, seeking to understand others' experiences."
Putting it into practice
Many workers are returning to the office in some capacity this year. As they do, HR leaders are uniquely positioned to offer support and encourage intentional conversations focused on employees' wellbeing. By prioritizing these needs, we can help break the stigma around mental health and ensure our workplaces are welcome destinations for all.