Over the past two years, turmoil after turmoil—from an ongoing health crisis to social justice issues—have caused distress among employees worldwide and spurred smart employers into action. Now, the latest threat of instability is calling employers to further action: the Russian invasion of Ukraine.
Employers with employees or business in those countries surely have different mandates on actions—companies including Starbucks and McDonald's have halted operations in Russia, for instance—but even without obvious ties to the area, it's important that employers step up, experts say, as the situation has many employees reeling and worried about a global conflict and significant U.S. involvement.
From taking a stance on and communicating with employees about the latest concerns to acting with empathy and boosting mental health efforts, the consensus, according to experts, is that employers cannot be silent on the crisis in Europe or ignore the toll it is taking on employees' wellbeing.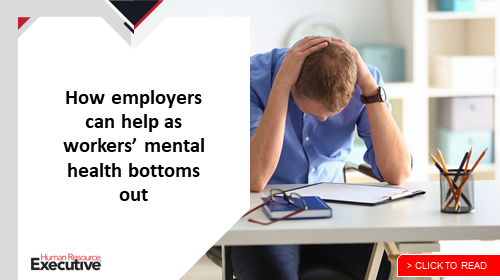 "One of the most important things for a company is to be perceived as caring, understanding and involved," says Richard Chaifetz, founder and CEO of employee assistance program provider ComPsych. "By communicating information, and being available and being forward on these things, it lets employees know that their company embraces their concerns and cares about them. That, I think, is one of the most important things that an organization can do for the employee."
Employer involvement comes as more employees expect their organizations to step up on social and humanitarian issues. Employees are putting a new weight on purpose in their careers and the firms they work for are responding, which was a recurring theme among experts at HRE's HR Tech Virtual Conference. Subsequently, the Great Resignation, in which scores of employees are or are considering leaving their jobs, is shifting employers' focus.
Jason Averbook, CEO and co-founder of Leapgen, said earlier this month that millennials rank social responsibility higher than any other attribute when it comes to the workplace, but not enough organizations are prioritizing that. "We need to do our darnedest to try to meet people more where they are," he said during a keynote.
With employees concerned about humanitarian and social issues, some organizations are setting up charitable and social programs to help those affected in Ukraine. For instance, Framery, a Finnish-based manufacturer with locations in the U.S., organized a fundraiser supporting the International Red Cross, which is responding to urgent humanitarian needs in the war-torn area. "Organizing this empowers staff, providing a venue for them to actively react to the situation at hand," says Framery Head of People and Culture Anni Hallila, who previously spent 10 years at Accenture.
Meanwhile, mental health efforts and programs are imperative during times of crisis, experts say. The Ukraine and Russia conflict has been top of mind for many employees in recent weeks, Chaifetz says. "It's a very difficult situation, and it can get worse before it gets better," he says. "[Organizations that] put their arms around employees in times of crisis through communication and openness goes a long way."
The humanitarian crisis is the latest in a string of unexpected and challenging events for employees. The ongoing pandemic, social justice issues, the crisis in Afghanistan, record-high inflation and more have challenged employees and resulted in significant declines in mental health. As a result, stress, anxiety, depression, burnout and post-traumatic stress disorders have all been on the rise over the past two years. Those trends have put pressure on HR and benefits leaders to not only beef up mental health programs and resources for employees, but to have more open conversations in the workplace about mental health issues.
Related: How employers can help as workers' mental health bottoms out
"[The Russian-Ukraine conflict] is another event that highlights the need for empathetic leadership and a culture that supports mental health," says Jennifer Benz, senior vice president and communications practice leader at consulting firm Segal Benz. (Benz is speaking at HRE's Health & Benefits Leadership Conference April 5. Register for the event here.) "We can't predict when or how individual employees will be impacted by external events, but we can ensure everyone knows how to access mental health resources and that managers and leaders create an environment that is supportive."
Employers would be smart to highlight available mental health benefits, share how workers can use them and encourage employees to take advantage of them. Although the majority of employers offer mental health resources—and even strengthened them in the past two years—scores of employees remain unaware of their offerings.
"Leaders should consider providing access to a series of wellness programs, healthcare providers and therapists that are available during the workday," Hallila says. "This can help staff not only manage stress in the office, but also build healthy, holistic routines into their daily lives."
It's also important to meet employees where they're at and realize that everyone reacts and handles stress in different ways, Hallila says.
"During times of crisis, some people want to lean into their feelings in the workplace and feel comfortable discussing where they're at mentally, while others prefer to do the opposite and bury their heads in work when they're on the clock," she says. "Everyone processes their emotions differently, so there is no one-size-fits-all solution to helping employees cope while they're working. Employers should seek out a myriad of resources that will appeal to different personality types and working styles."