Three days, dozens of sessions, 100s of exhibitors—our 2022 Health & Benefits Leadership Conference is in the books, and what a whirlwind it was.
After a hiatus in 2020 (and a virtual event last year), it was nice to see so many innovators, HR leaders, and benefits and healthcare firms gathered in person to talk about winning strategies, gaps in care and the biggest trends in the industry. There's no argument that the world—and the workplace—has changed significantly over the past two-plus years, and many of those lessons were on full display at this year's event.
So what were some of the biggest themes of the conference? Here are five:
Mental health, mental health, mental health. Mental health was on everyone's lips during the event, and for good reason. Rates of depression, anxiety, burnout and stress have all soared over the past two years. And that is showing up heavily in the workplace—in the form of presenteeism and absenteeism problems, for one thing—creating a mandate for employers to get aggressive in helping employees.
ABC News chief meteorologist and mental health advocate Ginger Zee, who opened the event, talked openly about her struggles with anorexia and depression and drew on her personal journey through suicide attempts, hospitalization, diagnosis and treatment. She described how scores of employees are suffering from issues like hers—but other people (including their employers) don't know it. "We are not all in the same boat, but we are in the same storm," she said.
She called on HR leaders to help remove the stigma around employees being vocal about their struggles—and seeking and utilizing treatment. "I think we've gotten better, but the stigma is now on the action," she said. "Therapy is cool now; everyone is on board with getting therapy. But when you have to get hospitalized, eyebrows go up. But that's when you get help [if] therapy can't do it."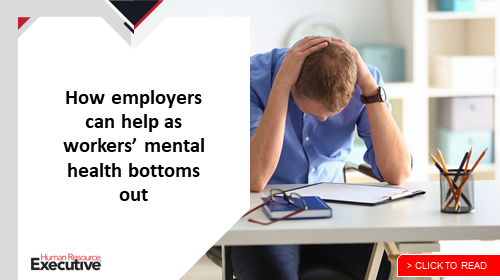 Employers not only have to provide comprehensive benefits to address and improve mental health, but they also need to do a better job communicating those benefits to employees. That's because too many workers are not aware of the offerings they have access to through their employer, said Missy Plohr-Memming, senior vice president, national account sales at MetLife.
"We know it's not because [employees] don't have the support; it's that employees don't know how to access it," she said. "They don't know how to utilize and activate the benefits; or, as Ginger Zee said, they're too afraid to ask."
COVID-19 has caused a plethora of new issues that will need to be addressed. It's not just longtime problems like mental health and financial health issues that are a challenge. It's a number of new problems: Think addiction issues, which are on the rise among employees and causing a new mandate for employers to act, Cheryl Brown Merriwether, HR veteran and vice president and executive director of the International Center for Addiction and Recovery Education, said during a passionate session to HR and benefits leaders. And long-haul COVID is an emerging workplace epidemic that's causing an uptick of disability claims, said Dr. Charles Glassman, associate medical director at The Standard, and Dan Jolivet, a workplace possibilities practice consultant at The Standard, during a session.
Additionally, employees who suffered through COVID-19 may experience heart inflammation months or years after having the virus, said Jenn Roberts of Hello Heart, a solution that allows people to record and share their blood pressure with their medical provider via Bluetooth connection.
Meanwhile, the pandemic also is causing huge surges in late-diagnosed cancers, chronic illnesses and other ailments because so many employees delayed preventive care, doctor's appointments and tests due to the pandemic. That's a huge issue that employers will need to be aware of and help address in the coming years, said Dana Baker and Cheryl Nienhuis, directors of the Complex Care Program at Mayo Clinic.
Bottom line: There are a number of huge health issues coming down the pike, and employers need to be prepared.
COVID-19 lessons are vast (and we shouldn't waste the opportunity). During our panel addressing the COVID-19 benefits revolution, Dave Pilson, vice president for total rewards at Upwork, told me that his firm's biggest lesson was to "have your playbook down, have a crisis leadership team queued up and ready to go." Not only has it helped with the pandemic, but it has helped with other crises as well.
Pilson recalled that the talent marketplace solution provider recently deployed the crisis playbook it wrote during the COVID outbreak to address a new issue: the war in Ukraine. Upwork had 4% of its operations in Russia and Belarus, and the company decided to stop operations after the invasion of Ukraine. "We utilized the same playbook that we had developed during the COVID crisis to address the Ukraine war," he said.
Likewise, remote work is undoubtedly one of the biggest COVID trends: Employers, where they could, overwhelmingly embraced the model as they tried to minimize interactions and keep employees safe. But now company leaders should embrace the lessons of remote work—namely that it worked and that most employees are happier with the model than having to be in the office all day. That was a lesson cited by Pilson as well as Chris Dyer, founder and CEO of PeopleG2, who has embraced remote setups for his employees since 2009. Both said employers should rethink trying to force employees back into offices. Dyer said remote can, and does, work and actually improves business. He cited five secrets for winning at remote work.
Employees are being more open about their needs. A perfect storm of issues over the past several years—the pandemic, calls for social justice, humanitarian crises, record-high inflation rates, work-life balance issues and more—is weighing heavily on employees. And those stresses are making workers more vocal about the help and benefits they desire from their employer.
What does that mean for employers? It means they need to do a better job talking to employees, pulsing them and listening. "We all think we know what's going on because we're experiencing it, but honestly, we're all experiencing it differently," said Kimberly Paris, regional HR strategic director for Penn State Behrend. "So as HR professionals, I think we just need to take a breath and listen."
…But workplaces should still be more open about struggles. Yes, struggles are being brought to light in a way they haven't in years past. That's a good thing. But are topics like financial health, mental health, and diversity and inclusion being discussed enough and openly in the workplace? That's a different story. Several speakers said there is still so much work to do in opening up the dialogue to address employee problems (and needs).
When I asked personal finance expert Suze Orman during our panel if she thought financial health—and financial struggles—was being discussed enough in the workplace, she told me it wasn't yet, but she hopes it will be eventually. Devin Miller, CEO of emergency savings fintech platform SecureSave, agreed that financial wellness isn't being discussed at work right now, even though employees are "getting crushed" as rent increases 25% year-over-year and fuel and other costs are skyrocketing. "Everything is so different than it was before," he said.
The same goes for mental health, financial health, diversity, equity and inclusion efforts and more, speakers said throughout the event. We simply need to do a better job. Step one? To make significant and meaningful changes, we need to get more comfortable talking about what we need.