The risk of PTSD among workers remains alarmingly high, according to the latest results from Total Brain's Mental Health Index, up 121% when compared to before the pandemic. Further, sustained attention is 47% worse than pre-pandemic; and for men, the data is even more worrisome—74% worse than February 2020. These findings show a stark contrast to additional data revealing improvements in risk for most other mental health concerns. For instance, the index found a 35% drop in risk for generalized anxiety disorder, as well as a 37% drop in risk for depressive disorder, compared to December.
Total Brain's Mental Health Index, in partnership with the National Alliance of Healthcare Purchaser Coalitions, One Mind at Work and the HR Policy Association and its American Health Policy Institute, is based on 500 anonymized assessments randomly selected among thousands of Total Brain assessments taken each week. The index has been tracking employees' mental health since February 2020, noting ebbs and flows in how workers are feeling that often correspond with the outlook on the pandemic.
What it means to HR leaders
As uncertainty and stress continue to plague the country—with factors including a rise in COVID-19 cases, employers bringing workers back to offices, the war in Ukraine, rising inflation and recent Roe v. Wade news—employees are having a hard time coping. And employers must not let up their efforts to help.
"Workers have become even more vulnerable after enduring a period of sustained stress over the past couple of years. Recent turmoil—domestically and globally—has triggered renewed concerns about their mental health and wellbeing," says Michael Thompson, National Alliance president and CEO.
Specifically, experts caution that the risk of PTSD can make people more emotionally volatile and increasingly susceptible to stress, anxiety, depression and addiction.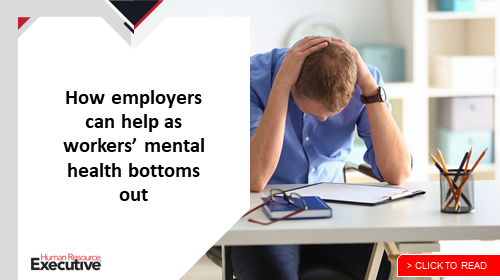 "High PTSD risk levels are a long-lingering effect of the pandemic, and while not totally unexpected, are cause for concern," says Matthew Mund, CEO of Total Brain. "Employees, while showing great mental health improvements as the world began to open, are highly vulnerable to uncertainty and change right now. The strong correlation between PTSD and other mental health concerns means that employees' and employers' ability to assess and monitor mental health is more important than ever."
HR and benefits leaders would be best served by regularly monitoring employees' mental health, asking how they are doing and providing an array of resources and support, experts say. Employers also should be mindful of how bringing workers back into an office environment can make some employees feel. The key is understanding, flexibility and allowing for remote or hybrid work when possible.