Francine Katsoudas has her hands full. 
As executive vice president and chief people, policy & purpose officer of networking solution giant Cisco, she has had to deliver services to nearly 80,000 employees in 95 countries during a global pandemic. This has meant, among other issues, overseeing a hybrid workforce, dealing with company responses to #MeToo and the George Floyd protests, responding to the Great Resignation and helping managers create an environment that drives innovation for a company that is often considered to be the backbone of the internet.
Katsoudas, who will speak at the upcoming HR Tech Virtual conference, says she is in the right role.
"I have always been a big believer that the HR profession has such an amazing opportunity to intersect people's strategies and business strategies and to have our people be that differentiator and that competitive advantage," she says. 
Related: Insights into EX, culture and innovation top HR Tech Virtual agenda
When the pandemic became a reality two years ago this spring, Katsoudas says Cisco put its employees first. 
"We focused on how we could keep our people safe," she says. "Then very quickly that transitioned to how can we create an experience that is the best, while all of our people are dealing with stresses."
This also meant dealing with big picture issues such as Black Lives Matter and #metoo movements. "There have always been conversations around mental health or social justice. I think now we recognize that you can't pretend that there's a wall between these issues and what your people are experiencing day today," she says.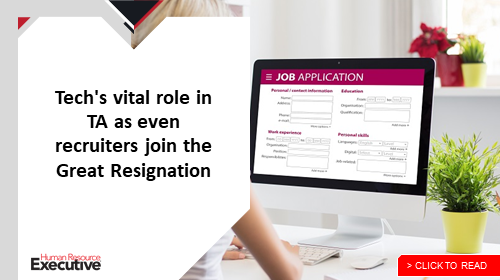 Katsoudas will share her expertise and experience on these topics and more during a panel discussion with Mary Moreland, EVP of human resources at Abbott, about "Where Purpose Meets People: HR's Time Has Come." Mark Stelzner, founder and managing principal at IA HR, will moderate the conversation, which begins at 11 a.m. ET March 3.
Throughout the pandemic, Cisco has had to provide innovation, activation and inventiveness to clients who needed the product to keep their businesses running, says Stelzner. In doing so, "they brought a different side of [HR that is] enabling the people strategy, structure and true connection that we take for granted every single day," he says. "Fran has not only risen and supported her populations but has also supported an organization that is recognized for their ability to get us all through this critical crisis."
He adds, "I think it's going to be an amazing, insightful and energetic conversation."
Promoting employees amid the Great Resignation
Like most organizations, Cisco has seen employees exit during the Great Resignation. The company has used this as an opportunity to examine why workers are leaving. When studying its employee data, Cisco found that the exiting personnel ranked among the bottom 10% of workers for engagement. "What we can see is that they're not spending as much time with their leaders, they don't get the same attention that some of their peers are getting and their leaders are not asking what can we do better," says Katsoudas. 
As a result, Cisco now is compelling managers to check in at least once a week to ask employees how they are feeling and to conduct more lengthy check-ins four times a year. 
Cisco also promoted 30% of its workforce in the past few years. "If we don't, the market will, and we have to be willing to take a bet on our people and help them get to the next level and be the best that they can," she says. 
Searching for hidden employee skills, data dashboards
Another way to do that, Katsoudas says, is by using HR technology solutions that develop employee skills but also take stock of their existing hidden talents. The tools modernize the previously time-consuming task of documenting roles and responsibilities, listing skills and then assessing talent. Often, the process took so long that it was outdated by the time it was completed.
That's why Cisco is looking to implement tech that will help Cisco assess talent and skills and then understand the skills that it needs to develop will be a "huge area of focus," she says.
Cisco is also looking for HR technology that delivers people insights for the HR function but also helps leaders make the best possible decisions, she says.
This might mean creating a single view of people data.
"Our leaders need a dashboard that helps them to understand some of the engagement risks that they have within their team. Right now, if we're being honest, they have to go two or three different places to put that picture together," she says. "That will be a huge area of investment for us."
Katsoudas is optimistic about the role of HR, especially after the challenges of the last two years. 
"The workplace has changed and we don't believe that there's a one-size-fits-all approach to keeping people engaged," she says. "These are huge and exciting shifts that have made our roles both crazy and really cool at the same time." 
Register for HR Tech Virtual here.