If there was any skepticism that we are in the clutches of a full-on labor shortage in the United States, the most recent Bureau of Labor Statistics data confirmed that fewer than 7 million unemployed workers were available to fill 11 million jobs posted in December of last year, equaling 1.7 openings for every available worker. Other highlights included multiple months of increasing voluntary job quits, the lowest level of seasonal worker layoffs on record and a 4.5% increase in wages and salaries over the last three months of the year. And this isn't just a U.S.-based issue: Sapient Insights' 2021-2022 Annual HR Systems Survey of over 2,000 organizations found that the ability to attract top talent was 10% lower than last year for EMEA and Asia-Pacific headquartered organizations—pointing to a global talent shortage. With the current labor environment, organizations must work to address the ever-ethereal topic of workforce planning.
Whether you call it the Great Resignation, Great Reset or simply a calibration of what workers value and want from today's work environments, the outcome is the same: an abundance of uncertainty and change concerning the workforce. Exhausted HR teams that have spent the last two years undertaking a herculean effort to sustain our organizations in the midst of a global pandemic are on the front lines of addressing these challenges. Is it even possible to plan for tomorrow in this environment? Can we stop and take the time to look forward when every day we face urgent needs right in front of us? Well, yes—and I'd say it is essential.
Organizations continue to increase investments in mental health and digital wellness platforms with the hope that these investments will help address rising levels of worker dissatisfaction and burnout. These are positive steps forward, but organizations cannot ignore the hard work required to actually change the factors causing organizational stress, such as silos, uncertainty and workloads. For the human resource function, this crucial path leads back to workforce planning: Regardless of what products we make or services we offer, people are at the center of our achievements.
See also: 3 ways to turn the Great Resignation into a Great Retention moment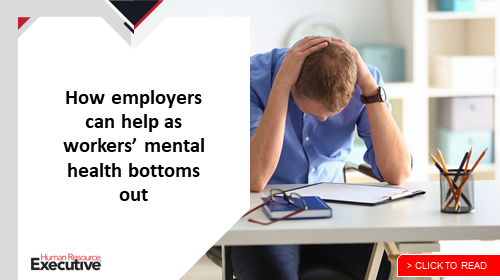 According to Sapient Insights' annual HR research, 48% of organizations participated in some form of workforce planning efforts last year—and achieved better HR, talent and business outcomes through this work. Only 28% of organizations conducted strategic workforce planning efforts that created data-driven and proactive enterprise-level human capital strategies, achieving the greatest outcomes—so there's a lot of opportunity for improvement. That said, even investments in more operational workforce planning efforts, such as headcount or labor budgeting, aligned with some improvement over those organizations that made no investment at all.
Why is workforce planning so elusive?
We are collecting more data than ever on employees and their work, and still, over half of organizations struggle to conduct even the most basic level of workforce planning efforts, and just 46% of organizations feel their HR technology is being used to inform their business or enterprise strategy.
Given the positive impact, what is holding organizations back from investing in workforce planning efforts? It is easy to say the problem is a lack of time, data or technology, but for most organizations, the challenge is more fundamental. One of the biggest issues is that organizations are experienced in standardizing HR processes but, in this case, workforce planning is not simply an HR process—it's an approach to developing a strategy. The approach requires multiple data inputs and cross-functional collaboration that eventually leads to solid options and more questions, which can be frustrating for those with decisive leadership styles looking for a specific answer.
Adding to the challenge of constant change, organizations spend a lot of time focusing on analyzing the data and configuring the tools surrounding the planning efforts. These are critical for getting the decision-level data we need, but the most important factor is bringing key people asking important questions together with the data they need to either make a decision or ask more questions. That last mile of bringing people together and telling the story of the data is often left unfinished because organizations aren't willing to invest the time and energy of their senior leadership. This is a critical missed step.
Executive buy-in is the No. 1 requirement for successful workforce planning efforts. Leaders must trust both the approach and the data and, most importantly, they need to hold the organization accountable to executing on the agreed-upon strategy. HR may oversee the workforce planning efforts and process, but ownership is at the top of the organization.
Practical application of workforce planning  
Research has shown that some stress and uncertainty is good, as it keeps us focused and diligent in assessing risks—but an overabundance impacts both our personal health and our ability to perform at work. When done effectively, workforce planning is a continuous feedback loop that uses both internal and external metrics to alert us to upcoming risks and stressors. If we think of workforce planning as a valuable coping mechanism—a tool we use to decrease the tension and anxiety in stressful or uncertain situations, which is essential for optimum survival—for the constant change and uncertainty inherent in our work environments, then it becomes just as necessary as any personal wellness solution our organizations have adopted. Workforce planning becomes as critical as breathing.
As soon as your organization starts to use data to influence actual work-related questions, you are practicing HR analytics and planning. If you are budgeting for future workforce and recruiting efforts based on historical data or expected increases in client demands, then you have begun operational levels of workforce planning. Central to every organization's survival and ability to manage the onslaught of change is immediate access to critical workforce data. This can include: employee locations, skills, job roles, engagement levels, compensation ranges, health records and even accessible technology in work-from-anywhere environments.
Once your organization begins to build out enterprise processes, functions and metrics to inform business outcomes, you are leveraging HR or workforce business intelligence (BI) and should, at the very least, be able to conduct solid financial headcount planning based on future revenue and profit targets.
As data becomes more accessible across HR, finance and operations platforms, joint planning efforts become achievable. Organizations can analyze, forecast and plan talent and workforce requirements to meet business outcomes based on critical job roles and skills while assessing available internal and external supplies of talent.
Related: What HR needs to really do to meet its new priorities
In all cases, technology and internal planning skills play a major role in an organization's journey to reach full workforce planning capacity—as do data management and ethics. The most important thing to remember is that getting started is 80% of the battle. You will never have enough time, or all the necessary skills or the perfect software—but like all things in a system focused on continuous improvement, the first investment is just the start. Start small, ask your executive leadership what workforce data would be most helpful in their next meeting and expect challenges. Workforce planning can initially be a series of failures before you achieve an ideal approach that works for your organization—but don't let fear hold you back from starting.
HR and finance technology vendors are making large investments in workforce planning modules as they help their customers realize the last mile with their products. Even greater investments are being made by consulting firms, anticipating opportunities to consult on workforce optimization and upskilling needs typically unearthed during these efforts. If you are looking for a place to get started, ask the resources you are already working with for HR advice. You might be surprised how quickly they can support you in getting workforce planning off the ground.