Roughly 33 million Americans have left their jobs since last spring, according to the U.S. Bureau of Labor Statistics. And the figures show no signs of abating. A record number of employees—4.5 million people—voluntarily left their positions in November, followed by 4.3 million in December.
What it means to HR leaders
This is just the latest among the scores of research that point to a mass exodus of employees—and a massive employer problem—in recent months. In addition to the millions of employees who have recently quit their jobs, many more are considering quitting or looking for new jobs. Data from Eagle Hill Consulting also finds that 27% of U.S. employees plan to leave their employer as the COVID-19 pandemic subsides.
Add to that the fact that COVID-19 is affecting many other employees and causing them to be out sick or on leave with the virus, and employers find themselves in a labor shortage they've never experienced before.
Related: Here's what hiring in 2022 is expected to look like
The enormous number of employees leaving their jobs has huge implications for employers and HR leaders in particular, who are often tasked with recruiting and retaining employees. Human Resource Executive's annual "What's Keeping HR Up at Night?" survey—which was released last month—found that hiring and retaining key talent amid the Great Resignation—in which record numbers of people are leaving their jobs in search of better work experiences—is the biggest HR challenge currently facing organizations.
Related: What's Keeping HR Up at Night? The Great Resignation and more, our survey shows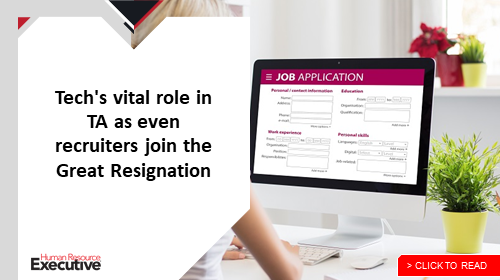 "The Great Resignation is a monumental challenge for HR leaders," says Melissa Jezior, president and chief executive officer of Eagle Hill Consulting. "They are facing a Rubik's Cube of problems that are difficult to solve. And the challenges go much deeper than the labor shortage stemming from the pandemic."
Smart HR and other company leaders are turning to a variety of strategies in response to the problem, like focusing on improving culture, increasing compensation and offering other financial incentives, and adding and enhancing benefits. HRE's upcoming Health & Benefits Leadership Conference will include a focus on hot benefits to attract and retain talent, featuring a number of HR leaders. (Register here.)
"There is a lot of room for improvement to create a high-quality employee experience," Jezior says. "Also, forward-thinking leaders will take a hard look at their culture and implement programs to measure and manage it so that it attracts and keeps talent. And of course, we will continue to see shifts in salary and benefits. Both of these are in the control of the employer, and better wages and benefits are tangible and immediate for workers."