The Health & Benefits Leadership Conference, which will be held April 5-7 in Las Vegas, will feature seven tracks—all addressing some of the biggest challenges facing HR and benefits leaders today. Several sessions, presented by HR leaders and other health experts, consultants and vendors, will be included under each track.
The tracks are:
Hot benefits to attract and retain talent: From family-friendly perks to caregiving and education assistance, a look at the latest innovative benefits driving recruitment and retention efforts.
Improving mental health: Discover how companies can support employees by fostering resilience and controlling burnout amid a mental-health crisis in the workforce.
Managing remote workers: Find out how to engage, manage and encourage an exploding number of full- and part-time remote employees.
Staying compliant: Gain insight on the latest regulations and compliance issues that affect your organization's health and benefits decisions.
Rethinking healthcare: Hear transformational solutions to combat rising costs, COVID-19 and neglected chronic conditions for employees and your organization.
Boosting employee financial health: Explore how companies are implementing financial wellness programs, helping employees build emergency savings, rethinking retirement strategies and helping alleviate employees' financial stress.
Tech solutions that work: Explore how to drive employees' benefits engagement and strengthen your company's values and culture with the help of technology.
What it means for HR leaders
The tracks represent some of the biggest issues currently affecting employers and the most important tasks for HR leaders. That is especially the case during the continuing COVID-19 pandemic, now in its third year.
Mental health issues, for instance, have become an imperative for company leaders. That's because of soaring rates of issues like burnout, stress, depression and more as a result of the continuing uncertainty caused by the pandemic. "[More than half] of working Americans say they are burnt out at work," Melissa Jezior, president and chief executive officer of Eagle Hill Consulting, tells HRE. "And that's just an unsustainable situation for employers who want to keep their workers."
Mental health issues not only impact employees' physical health, productivity levels, absenteeism rates and more, but they also make them more likely to leave their jobs (research shows that burnout is the No. 1 reason employees are leaving their jobs.)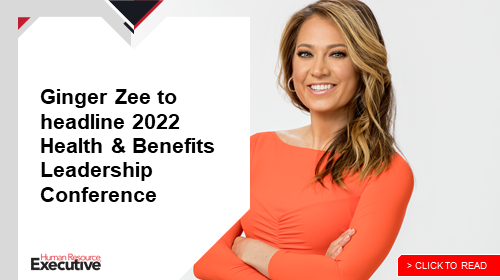 Nearly every facet of health and benefits strategy has been flipped on its head due to the pandemic. Remote work has boomed in the last two years, with experts saying the model will continue post-pandemic; employers are rethinking healthcare strategies (think telemedicine and apps) and financial health has also suffered during COVID-19, making employer action vital. Meanwhile, the Great Resignation—in which scores of employees are leaving their jobs or considering doing so—are making innovative benefits and compensation strategies key to retention.
The Health & Benefits Leadership Conference is open for registration; find out more here.