Mental health has been a consistent talking point among organizations for years now, as company leaders have witnessed employees dealing with blow after blow to their emotional wellbeing. Now, new research shows employers are planning to put their money where their mouth is when it comes to mental health—even more than they have previously.
Two out of three U.S. employers say they plan to make employee mental health, and the emotional wellbeing programs and solutions that support it, one of their top three health priorities over the next three years, according to a survey of 455 U.S. employers from Willis Towers Watson. Not only that, but the number of employers that intend to offer designated mental health days could more than  triple from 9% currently to 30% in the next two years.
The data provides significant evidence of the state of workplace mental health. Organizations had been increasing mental health efforts over the past several years, but that was largely as a result of the pandemic. As rates of stress, depression, anxiety, burnout and other issues have shot up over the past couple of years, so have employers' mental health offerings.
"COVID-19 took a terrible toll on employees' lives, including substantially worsening mental health," says Erin Terkoski Young, senior director for WTW's Health, Equity & Wellbeing practice. "And even as the pandemic takes a different shift, mental health challenges continue to persist," she says.
---
---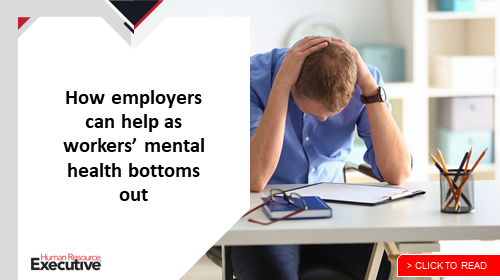 Nearly all survey respondents (88%) said they have taken measures to address workforce mental health needs this year, and those efforts will only grow in the coming years. For instance, 83% of employers offered telebehavioral health this year, and another 9% are considering or planning offering it in the next two years. While virtually all employers offer traditional employee assistance programs, seven in 10 (69%) provide dedicated onsite or virtual EAP resources. Additionally, one in four employers (24%) are planning to increase their EAP benefits in the next three years.
More than four in 10 employers (44%) currently provide manager training, such as general mental health awareness or identification and intervention training, and another 30% are planning or considering the training in the next two years. Nearly four in 10 employers (38%) are partnering with employee resource groups to address population-specific mental health issues, while another 27% are planning to or considering doing so, according to the survey.
"Taking mental health programs to the next level won't be easy, but employers that succeed will see improvement in productivity, retention and engagement," Young says.
Indeed, other research has found that employers that prioritize mental health efforts are better poised to keep and woo talent, especially in a hot job market. The vast majority of workers—eight in 10—are seeking workplaces that offer mental health support, according to a recent survey of 2,000 employees from the American Psychological Association.
"Employers are highly focused on supporting the mental health of their employees, especially as they look to retain and engage talent," Young says.
---
Don't miss more about mental health strategies at the upcoming Health & Benefits Leadership Conference, taking place in Las Vegas from May 3-5. Learn more and register here.