The ongoing pandemic is driving rates of burnout, depression, anxiety and stress like never before. The most recent research data from Total Brain's Mental Health Index, for instance, shows that mental health has hit an all-time low, fueled by the recent Omicron surge. And while employees all over are dealing with a variety of mental health issues, a specific group of employees are not immune to the problems either: HR professionals.
HR leaders—often tasked with taking care of their employees and leading their organization's efforts on mental health improvements—are stressed out like never before.
In fact, according to HRE's annual "What's Keeping HR Up at Night" survey, a whopping 86% of human resources executives say their stress has increased in the last year—44% say their stress levels have increased "dramatically," according to the survey. Eleven percent say their stress has stayed the same, and just 3% say stress has decreased in the past year.
It's such an important issue for HR leaders and the employees they're serving that the mental health epidemic will be a major theme at HRE's upcoming Health & Benefits Leadership Conference, April 5-7 in Las Vegas. Nationally recognized speakers, including opening keynoter ABC News Chief meteorologist Ginger Zee, will be featured and a full learning track throughout the event focuses on "Improving Mental Health." Register here.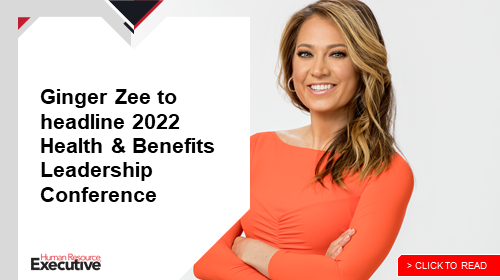 "The pandemic was the straw that broke the camel's back," says Melissa Jezior, president and chief executive officer of Eagle Hill Consulting. "Employee burnout was simmering long before the pandemic, and now it's boiled over."
So how are HR leaders taking care of their own mental health and prioritizing self-care as they try to help their employees with theirs? HRE asked several HR leaders; here's what they said in their own words.
Kathleen Hogan, executive vice president, human resources, and chief people officer at Microsoft and HRE's 2021 HR Executive of the Year
Setting work-life boundaries. "At the end of the day, my son is my first priority. I've always been super clear on that. What he needs comes first and work fills the capacity after that, versus the other way around.
Put your own oxygen mask on and make sure that you draw the line. Work will fill the capacity you give it; you can work 24/7 in this job. And so it's just drawing the line and making sure you take time for yourself and your family."
Related: How the HR Executive of the Year rebooted Microsoft's culture
Lindsey Lanzisero, vice president of total rewards, H&R Block
Reading and decompressing. "I think it's having an awareness of where your own breaking points are, and what you need to do personally to decompress and show up as your best self. I'm a huge reader. So I will tend to dive into books. I've read close to 60 books the last two years each year. I'll have days where I feel kind of bad that I'm going to sit here and read books for a couple of hours, but that's what I need to do to bring myself back and show up as my best self at work and at home."
Darren Burton, chief people officer, KPMG
Taking advantage of more flexibility due to remote/hybrid work. "I probably take care of myself better than I ever have. I have much more flexibility. I didn't recognize how difficult travel was before and what a drain it is physically, mentally, emotionally in the way we traveled as executives at this level.
I have a young child and I'm having the opportunity to watch her grow up in a way I never really had with my older children. I'm also making sure I have more time and schedule more breaks during the day to exercise and go to physical therapy."
Burton will be speaking at HRE's Health & Benefits Leadership Conference on April 5 as part of a keynote panel discussion titled "The COVID-19 Benefits Revolution: What Have We Learned? What's Next?" Click here for more information and to register.
Tara Ataya, chief people & diversity officer, Hootsuite
Taking time for emotional self-care. "Something I practice is radical self-acceptance. And really, what that is is just recognizing that I can't always predict how things are going to go, but accepting and making the best out of it. I'm naturally a glass-half-full human. So from a self-care standpoint, I recognize when I need to go through that emotional tunnel, so to speak.
Brené Brown [the research professor, author and podcast host] talks about that a lot. Going through those emotional tunnels and just practicing that radical self-acceptance and making sure that I'm checking in with myself and giving myself the time and space I need. And I think that also translates in a leadership role when you're doing that, and you're talking about it with your people."