HR professionals are dealing with a myriad of challenges: soaring employee burnout rates, hiring and retention troubles amid the Great Resignation and the continuing trials of the COVID-19 pandemic.
And they're not immune to the increasing pressures of their job.
New data finds that 53% of HR leaders are burned out, and 48% of HR leaders are looking for a new job, according to a survey of 400 HR respondents from AllVoices, an employee feedback management platform.
"A lot is being asked of HR leaders," says Claire Schmidt, CEO and founder of AllVoices. "Their workload has increased significantly since COVID, yet they haven't been given the resources to address it."
The new report isn't the only data that underscores the extreme stress HR leaders are under.
HRE's annual "What's Keeping HR Up at Night" survey, released last month, found that a whopping 86% of human resources executives say their stress has increased in the last year—44% say their stress levels have increased "dramatically." Eleven percent say their stress has stayed the same, and just 3% say stress has decreased in the past year.
HRE's survey, which polled 820 leaders last fall, found that hiring and retaining key talent amid the Great Resignation—in which record numbers of people are leaving their jobs in search of better work experiences—is the biggest HR challenge currently facing organizations. Improving employee morale and engagement in remote/hybrid/socially distanced workplaces (cited by 18% of HR leaders), managing compliance, including expected federal COVID-19 vaccine mandates (16%) and improving company culture (12%) were HR's other top concerns of 2021.
Related: What's Keeping HR Up at Night? The Great Resignation and more, our survey shows
In addition to the unprecedented challenges of the last two years, HR leaders' stress is compounded by the fact that they don't feel supported at work, Schmidt says.
"Our HR respondents find challenges in the fact that they feel overlooked by the rest of the organization, that their work is often deprioritized or that [other business leaders] focus just on hiring and administrative tasks, and fail to understand the work they do in ensuring that employees are happy, safe and fulfilled in their job roles," she says. The AllVoices survey finds that 40% of HR leaders feel challenged by the lack of importance/priority the company puts on the HR department.
HR leaders are far from alone in experiencing burnout. According to the latest data from Total Brain's Mental Health Index, mental health has hit an all-time low. Meanwhile, HR leaders, who are often tasked with taking care of their employees and leading their organization's efforts on mental health improvements, are struggling themselves and often don't prioritize their own mental health.
Some HR leaders are trying to focus on their own wellbeing by putting work/life boundaries in place and prioritizing their mental health.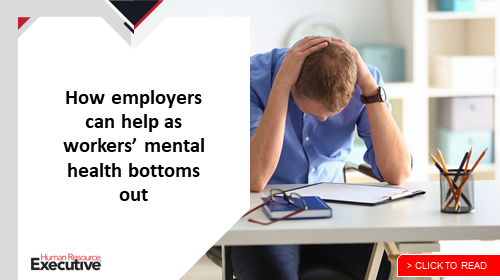 "I think the most important thing we can do for ourselves and our employees is to set and stick to boundaries," says Kimberly Paris, director of human resources at Penn State Erie, the Behrend College.
"You have to have a time to take a break at some point, particularly now because we are always connected to our technology. Clear, consistent communication is the key to this being successful. Whether it is blocking your calendar for a lunch workout, meditation time or setting aside two nights per week where everyone knows you don't check and won't respond to messages—unapologetically set boundaries and stick to them to ensure you are recharging," continues Paris, who will speak about work/life integration and how HR can help employees set boundaries at HRE's upcoming Health & Benefits Leadership Conference, April 5-7 in Las Vegas. Register here.
Related: Feeling HR burnout? 4 tips for self-care from HR leaders
In light of the new findings, though, organizations as a whole need to do better to support their HR teams. Schmidt suggests they start by prioritizing the implementation of new technology so their HR team can do its best work and support employees. They also should focus on what HR leaders say excites them most about the role to keep them engaged, such as improving collaboration and advising across business units, implementing new technology, increasing the use of analytics for data-driven decision-making and increasing hiring.
If not, organizations stand to lose their HR talent.
"Losing HR leaders can be extremely challenging for organizations because these are the very people who are tasked with hiring, onboarding and retaining great employees across the organization," she says.